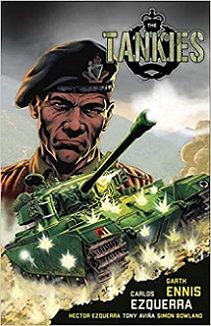 Title: The Tankies (GN)
Publisher: Dead Reckoning
Written by: Garth Ennis
Penciled by: Carlos Ezquerra
Inked by: Hector Ezquerra
Colored by: Tony Avina
Lettered by: Simon Bowland
Price: $ 24.95 US
Rating: 4 out of 5 stars
Website: www.deadreckoning.org
Comments: The Tankies are the men of the British Royal Tank Regiment and their motto is "From Mud, Through Blood, to the Green Fields Beyond."
The artwork is outstanding. It does show off the violence of war and its camaraderie.
The Tankies
Chapter 1: Sugar Sugar
The way the men talk unless your British does make it hard to follow everything being said. It is though wonderful to have it done in this manner which gives you a feeling of authenticity. The facial expressions are so perfectly drawn. You can see the toughness of Corp'ral Stiles Dreever in his face and his actions.
We do get a look at what war is about and the soldiers involved in it. It is not a pretty thing. War is hard on everyone.
Chapter 2: Yeomen of England
The double-page spread here brings across the hardships and tragedy of war. The devastation on the battlefield is saddening to see.
We are given a close-up look at the day-to-day life of soldiers and the officers.
Chapter 3: To the Green Fields Beyond
War is not glorious it is hard, gritty, and just plain awful to behold. Now the Corp'ral's tanks crew mainly the gunner gets a Tiger. This is a near-impossible feat and luck had a lot to do with it.
Here we get a look at the parts of war that are usually not mentioned. The messy stuff no one wants to know about yet still exists and someone has to deal with it.
The Firefly and His Majesty
Chapter 1: Welcome to the Fatherland
Corp'ral Stiles Dreever is still leading his tank crew on their mission.
The Germans have the Allies totally outclassed when it comes to tanks. The Germans are people too and they are just doing their duty, they are not evil.
The Corp'ral's speech is played up a lot. His accent is part of his character and helps to give him a tough guy attitude.
Chapter 2: Soldiers of the Reich
We keep following along in the day-to-day life of soldiers for both sides. A German soldier is shown missing his family. Here too we see how the German Commander's care for their soldiers. War does have its moments and they are all bad.
Chapter 3: Kingdom of Dust
It is the Firefly vs a Panzer and this is a battle you do not want to miss. This battle is not a pretty sight as things get messy and bloody. People die and that is sad.
 The Green Fields Beyond
Chapter 1: Now Thrive the Armourers
Stiles hangs out with his crew and gets new addition to it, Frankie. The two of them go on a nice long walk and end out a long way from where they should have been. You will get a feel for what war is really like and you will not like it.
Chapter 2: God for Harry, England, and Saint George
You do learn about all the little things that happen in a battle here. War is definitely hell. The Sarge aka Stiles does know all about it he has been in the army a long time. The fact that he is still alive says he is a good soldier.
Chapter 3: Death Ride
There is a huge battle against the Chinese forces. So many Chinese died.
Life living in a tank is not something that should have to be done. Soldiers do it to protect countries. Yet here we see these soldiers are still just men like you and me except they are truly working heroes who never think of themselves as heroes.
About Author