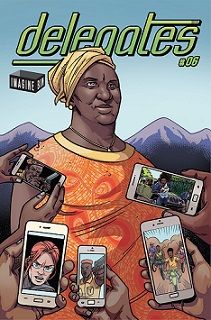 Title: Delegates # 6
Publisher: Imagine Bin
Writer: Bin Lee
Pencils: Felipe Cunha
Inks: Rodrigo Urbano
Colors: Anwar Hanano
Letters: Taylor Esposito
Cover: Felipe Cunha & Anwar Hanano
Logo Design: Taylor Esposito
Created by: Bin Lee & Tina Cesa Ward
Price: $ .99 US (Digital)
Rating: 3 out of 5 stars
Websites: twitter.com/delegatescomic?lang=en, www.comixology.com/Delegates-1/digital-comic/614116
Comments: This book starts out about politics and stays about it. The art suits the story, it's basic yet works well.
All the main characters are introduced quickly. Marla, Osi, Saito, Aminah, and Victoria. Aminah for an android does seem to be caring. She does more than just care she inspires others to care. Aminah the President acts more human than humans do.
The idea of an android running a country in the present day is one that most people might not agree with but here because the android is made to act and show feelings it could work. The people have faith in her and believe in her. This android is thought to be like a human.
Marla, now she is a kind-hearted soul who just wants to help the people out. She is the heart and soul of this comic.
About Author