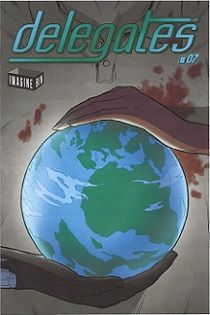 Title: Delegates # 7
Publisher: Imagine Bin
Writer: Bin Lee
Pencils: Kendal Gates
Inks: Rebecca Harris
Colors: Heather Breckel
Letters: Taylor Esposito
Cover: Kendal Gates, Rebecca Harris & Heather Breckel
Logo Design: Taylor Esposito
Created by: Bin Lee & Tina Cesa Ward
Price: $ .99 US (Digital)
Rating: 3 out of 5 stars
Websites: twitter.com/delegatescomic?lang=en, www.comixology.com/Delegates-1/digital-comic/614116
Comments: Madame President is more than just metal and numbers. It will be interesting to see how the rest of the country reacts to her being an android. A small town knows and accepts her but a whole country that is different.
A lot of this issue has the main characters standing around and chatting. Lots of political moves are in motion.
Marla gets into some action and is illustrated in a few good fighting scenes.
Some of the action needs to be explained better as it is hard to follow. The story's direction needs to be more focused.
Marla makes for one great character and now with the addition of another agent similar to her just more company focused it should create and has already more situations of intense rivalry as to who is right.
About Author