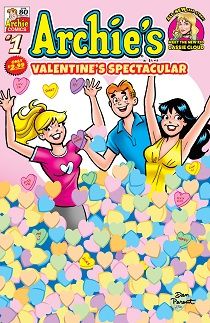 Title: Archie Valentine's Spectacular 2023
Publisher Archie Comics
Stories: Jamie Lee Rotante, Greg Crosby, Craig Boldman, Dan Parent
Pencils: Holly G!, Pat Kennedy, Rex Lindsey, Dan Parent
Inks: Jim Amash, Jon D'Agostino, Rudy Lapick, Rich Koslowski
Cover: Dan Parent with Rosario "Tito" Pena
Colors: Glenn Whitmore, Barry Grossman
Price: $ 2.99 US
Rating: 4 out of 5 stars
Website: www.archiecomics.com
Comments: "Valentine's Spectacular Dance" In this story, a new character is introduced, Cassie Cloud. She is a looker who can dance, bake and play football. Plus even better she is a nerd. Cassie is the type of person who looks beyond just looks. She sees people as they are.
Cassie is a unique fresh new character added to the Archie Universe and she fits right in. Her style stands out in the wonderful illustrations.
"Valentine's Day Dilemma" Poor Archie what to do for Valentine's Day? Well, he does finally come up with a unique one-of-a-kind gift for Veronica. It is always fun to watch Archie worrying over a girl and then every once in a while things are not a total disaster for him.
"Sweets to the Sweet" Jughead is a schemer when it comes to food. But we all know a certain rich girl can out-scheme them all including the bottomless stomach on feet. The art looks great in the classic Archie style.
"Out of Tune" Veronica has a new boyfriend and so do all the girls at her country club. Could this lead to trouble, probably? The art does deliver some nice emotions on the girl's faces.
In "Poetic Justice" Veronica gets a secret admirer of course the story though is not what it seems. The poetry is cute though. Veronica is drawn in a lovely outfit.
These stories are full of romance. Just the thing to get you in the mood for Valentine's Day.
About Author