Title: Agatha Christine: Next Door Spy
From: TriCoast Entertainment
Producers: Mette Valbjorn Skott, Fie Ornso
Co-Producers: Rodrigo Villalobos Caceres, Lina Jonsson
Executive Producer: Sarita Christensen


Voice Actors:
AC…Simone Edelmann Magelbjerg
Vincent…Oliver Butcher Herlevsen
Sanne…Kristine Sloth
Mar…Anne-Grethe Bjarup Riis
Varunen…Sus Edelind
Kiask-Arne…Tommy Kenter
Vincent's father…Dar Salim
Vincent's brother…Albert Rudbeck Lindhardt
Skater guy…Harald Kaiser-Hermansen
Selfie pige…Mille Lunderskov
Lillebror Bertil…Vigga Bengtson
GPS stemme…Annevig Sifka Schelde Ellegaard Ebbe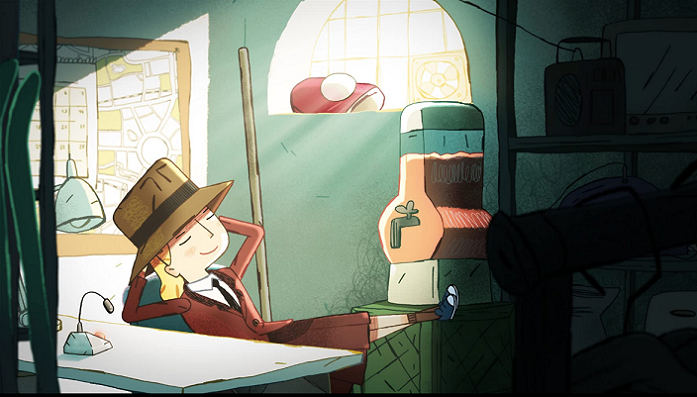 Rating: 5 out of 5 stars
Run Time: 1 hr, 20 min
Comments: Agatha Christine or AC is shown having a noir daydream of herself as a Private Detective. It is a short fun adventure for AC. She does this a lot.
The animation does have a cute style and look to it that makes AC likable. AC does have an old fashioned style look to her. The not lizard now he is a nice addition.
AC does find a crime to solve and she pursues it relentlessly. Her life though includes a mother who does not fully understand her.
AC is an intense character. She will have you focused on her every move. What is up with the non-lizard creature and why is it growing so much?
The show is full of drama. AC does have a hard time solving her case which has taken turns that lead to AC having to use her detective skills to help herself.
AC does learn to care about a boy named Vincent. Now AC does solve her case and in doing so learns of a bigger case. AC learns that there is more to life than playing detective. Yet there is nothing wrong with being a detective.
A mystery and romance blossom in these pages. AC does show us that she is one girl who knows what she wants.
This is one great little Danish animated detective movie.


About Author