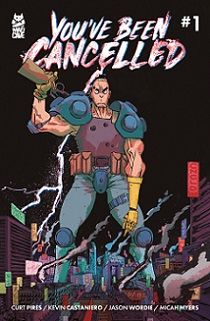 Title: You've Been Cancelled # 1
Publisher: Mad Cave Studios
Writer: Curt Pires
Artist: Kevin Castaniero
Colorist: Jason Wordie
Letterer: Micah Myers
Price: $ 3.99 US
Rating: 4 out of 5 stars
Website: www.madcavestudios.com
Comments: It's the year 2050 and we are in Los Angeles. So in this world, there are Cancellers like Roland Endo, Nicky Diamond, and Big Boy. They and others are competing to bring down a criminal.
The art style is a weird tough one that is great for this type of story. The two match up beautifully. The colors are subdued. It is gritty and lets you know this is a future in which people and the world have moved on and it's not all good.
Roland being a Canceller does cancel the criminals most violently. This world is full of rough and dirty people. Roland has to go through other Cancellers to get to his target. He does enjoy his work and he is the best there is at it.
Things indeed take a most unexpected turn here. You will never see this coming. Yet it does make sense.
Roland is a guy who thinks and knows he is the best yet if everyone else is after he can beat them all. He was a soldier who while doing his duty had it affect him too much.
Roland is just a guy that is an ordinary man making himself special and some do not like that.
About Author