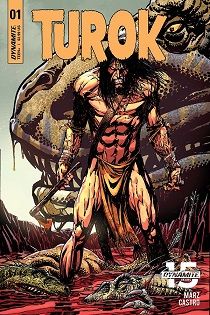 Title: Turok # 1
Publisher: Dynamite
Written by: Ron Marz
Art by: Roberto Castro
Colors by: Salvatore Aiala
Letters by: A Different World Studios' Troy Peteri
Cover by: Bart Sears
Variant Covers by: Butch Guice & Dan Brown, Jeffrey Veregge, Roberto Castro & Savatore Aiala
Price: $ 3.99 US
Rating: 4 out of 5 stars
Website: www.dynamite.com
Comments: Twelve Union soldiers have Andar and his brother Turok is getting him back. Turok is drawn in amazing action poses as he attacks. Turok is drawn so beautifully as a native American warrior. He is shown moving with grace and strength.
The Union soldiers are a rough and tough bunch of cowboys. Captain Conners is not the kind of guy to ever give up. As Turok and Andar flee them they are in hot pursuit.
The soldiers encounter a dinosaur what they call a big lizard and it gets bloody.
Turok and Andar encounter something and then they are not where they were. The land of dinosaurs is beautifully illustrated. It looks so peaceful, so untouched.
Turok and Andar have just started one amazing adventure of a lifetime.
About Author