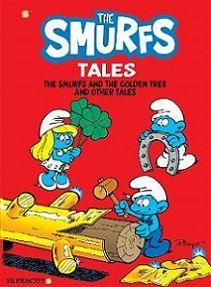 Title: The Smurfs Tales: The Smurfs and the Golden Tree and other Tales
Publisher: Papercutz
Writer/Artist: Peyo
Script: Peyo, Alain Jost, Thierry Culliford, Delporte, Luc Parthoens
Artwork: Peyo, Pascal Garray, Walthery, Laurent Cagniat
Colors: Peyo, Nine Culliford, Paulomaddelen
Lettering: Bryan Senka, Wilson Ramos Jr.
Price:  $14.99 US, $ 19.99 Can
Rating: 4 out of 5 stars
Website: www.papercutz.com
Comments: "The Smurfs and the Golden Tree" The Smurf's celebration of the Golden Tree is like a harvest festival. The festival is canceled and all Scaredy Smurf can think about is all the ill omens that keep happening. Bad luck has started to occur frequently. This bad luck needs to go and Papa Smurf has an idea to get rid of it. This leads to a few smurfs going on an adventure.
The smurfs try to beat their streak of bad luck. Even Papa Smurf comes up with a way that fails and then he comes up with another method. He does not give up.
The smurfs do find out eventually that life is made up of both good and bad luck. You have to make the best of it.
Gargamel well he has luck as well. For him, he does get both good and bad too. It is cute to watch him suffer as he realizes his faults and the smurfs well they just enjoy life. It must be great to be a smurf.
"Lady Dolphine" Benny Breakiron has an adventure. Madame Adolphine now runs a large criminal organization or does she? She does go overboard trying to convince Benny she is an angel. This is a fun and exciting story about a robot and a strong little boy. The art is cute and Benny is shown as a determined boy. The supporting characters though are what makes this story so enjoyable.
"A New Beginning" Willow and the other female smurfs along with help from Papa Smurf and his smurfs make themselves a new home. The Growlers give the smurfs some trouble. The smurfs encounter more trouble than they were looking for. The smurfs do have one adventure which ends with a happy ending for all. The smurfs always end up doing the right thing and helping others. The art is beautifully done in this all-ages story.
"The Miniature Smurfs" Here a witch minimizes the smurfs.
The smurfs do find themselves in danger. The smurfs are already small so a 50% reduction is not something they need.
The smurfs are such a fun-loving group and they are so caring.
About Author