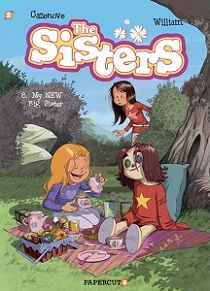 Title: The Sisters: # 8 "My New Big Sister"
Publisher: Papercutz
Story by: Cazenove & William
Art and Colors by: William
Cover by: William
Translation by: Nanette McGuinness
Lettering by: Emma Jenson and Nikki Foxbot
Price: $ 9.99 US (Paperback) – $ 14.99 US (Hardcover)
Rating: 4 out of 5 stars
Website: www.papercutz.com
Comments: Wendy and Maureen are two sisters that love each other very much only sometimes it does not seem like it. Wendy is the older, bigger sister so she has moved on with what she likes in life. These sisters may fight yet they also have so much fun.
All the little drawings in the margins between panels are just wonderful and add so much more fun and enjoyment to reading this book.
The art delivers fun and the characters look so cute. The coloring is terrific. The shading is well done.
Wendy has a boyfriend Mason and Maureen can be a pest when they are trying to have some alone time. Mason is a cool guy who gets along with everyone. Maureen is excitable and Wendy loves her little sister just sometimes she does not want her around being a pest.
These two sisters are the best as they really love each other and it shows. They also know each other so well. They know what the other will do before they do it or they themselves know.
Double Dog Dares are fun for all. With two sisters, even more, fun is involved.
Wendy and Maureen, you could not find a better pair of sisters than these two. The adventures they have will have you wanting more.
About Author