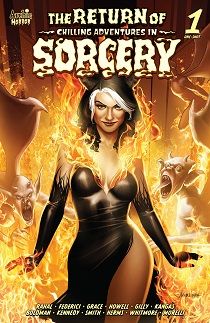 Title: The Return of Chilling Adventures in Sorcery # 1
Publisher: Archie Comics
Story by: Eliot Rahal, Sina Grace, Casey Gilly, Craig Boldman
Line Art by: Vincenzo Federici, Corin Howell, Liana Kangas
Pencils by: Pat & Tim Kennedy
Inks by: Bob Snith
Coloring by: Matt Herms, Glenn Whitmore
Main Cover: Julius Okta
Variant Covers: Francesco Francavilla
Price: $ 3.99 US
Rating: 3 out of 5 stars
Website: www.archiecomics.com
Comments: "Blood Moon Lilith" Madame Satan aka Principal Wardwell appears to be in Hell. She is there along with Veronica Lodge which seems strange. The demons in Hell do not seem overly threatening. On Earth things are being run strangely. Has Hell invaded Earth? Sabrina and her friends may be in Hell on Earth yet they do still fight back, they do not give up.
"Dressed To Kill" Veronica buys a dress and it looks gorgeous on her. The art does bring out her beauty and her obsession. Veronica goes all out to get the perfect ensemble she does change as she decides what she has to have. The person she becomes will give you chills.
"Thirst Trap" Toni's girlfriend has some kind of magical attack while sending Toni pictures of herself. Nothing is really explained about why things are happening.
"Demonic Dipsy Doodle" Well this one page story in gory. Poor Jughead and his paintings that come to life. For Jughead he might wish he had never painted this painting.
Madam Satan certainly does run one hellish school. She is one evil being and she will attack anyone that gets in her way.
About Author