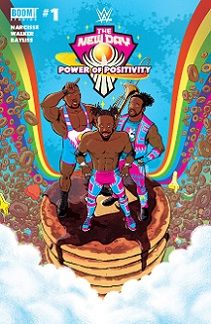 Title: The New Day: Power of Positivity # 1
Publisher: BOOM! Studios
Written by: Evan Narcisse & Austin Walker
Illustrated by: Daniel Bayliss
Lettered by: DC Hopkins
Cover: Daniel Bayliss
Variant Covers by: Rahzzah, Oliver Barrett, and Griff
Price: $ 3.99 US
Rating: 3 out of 5 stars
Website: www.boom-studios.com
Comments: The art certainly does make it easy to tell which wrestlers are which. The art beautifully brings across the features of the wrestlers so you will recognize each one.
We take a look at the New Days childhood. They did not have easy ones.
In the ring Kofi and Big E alone were ok wrestlers as far as the audience was concerned they did not stand out. Xavier was unsure of who he was in the ring.
The issue does drag on about their childhood. More ring time would have been better. They are shown though being themselves which is always great to see. It is great to be one's self and like for it as well.
We do get to see a few other wrestlrs in this issue but the New Day are the stars of this issue and are shown as going on their way becoming the stars of the show.
About Author