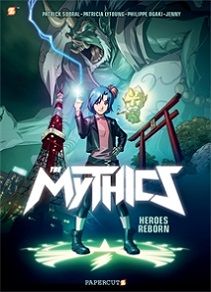 Title: The Mythics Volume 1: Heroes Reborn (GN)
Publisher: Papercutz
Created by Patrick Sobral, Patricia Lyfoung, and Philippe Ogaki
Part 1- Yuko
Script — Philippe Ogaki
Art — Jenny
Color—Magali Paillat and Valeriane Duvivier
Part 2- Amir
Script and Art — Philippe Ogaki
Color — Magali Paillat
Part 3- Abigail
Script — Patrick Sobral with help from Fabien Dalmasso
Art — Dara
Color — Magali Paillat
Translation — Elizabeth Tieri
Lettering — Wilson Ramos Jr.
Price: $14.99 US (PB)– $19.99 US (HC)
Rating:  out of 5 stars
Website: www.papercutz.com
Rating: 4 out of 5 stars
Website: www.papercutz.com
Comments: Part 1- Yuko
A mission is returning from Mars. Abe one of the astronauts has an infection but seems ok otherwise. Something happens with that infection. Something mysterious.
Yuko now saw something happen. Now she has had something happen to her.
The anime-style art does look wonderful.
Yuko does have the ability to generate electricity. Yes she is a new hero. A spirit has granted her this power. She is set to fight the evil of Evil.
Demons, spirits, and superpowers all merge with the everyday life of Yuko. She is doing her best to make it all work.
Yuko has become Raijin the spirit of thunder and lightning. Her costume looks great and fits her powers. Fuijin the demon of storms is her foe here. Yuko does put forth a great effort and she does become the hero she was meant to be.
Part 2- Amir
Amir is a young kid with a fortune and lands. He has a big heart. He also has a certain special ability. Horus Guardian of the Sun and Moon has come to help him.
The art is so wonderful to look at. The colors are soft. The art has a way of making the characters pop out at you. Amir learns of his powers and it is inspiring to see. Amir meets Seth an incarnation of evil who can raise the dead.
Amir is now armed with the Staff of Horus this is a powerfully illustrated weapon. His nanny Miss Taylor is a more than capable nanny. She also looks very beautiful.
Part 3- Abigail
Abigail is a gorgeous young blonde girl. Freya visits her. Abi does get her weapon the Tuning-Sword. Abi stands well-armed as she faces Loki. The Nordic costumes are amazingly designed.
Abi does face Loki in a battle to save Germany from being frozen over. Abi never gives up and keeps fighting on.
Teen drama is mixed in with this part as Abi and her friend argue and eventually sort things out.
From the way, the story starts out you might think that these three youngsters will end up teaming up. Yet that does not happen. Each part is like a separate story and it does work well that way.
Lots of battles within these pages deliver action and excitement. Evil is within these pages and good as well. It is good vs evil and will one beat the other? Join in and see the Norse Gods at their best and their heroes as well.
About Author