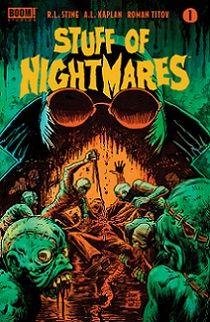 Title: Stuff of Nightmares # 1
Publisher: BOOM! Studios
Created & Written by: R.L. Stine
Illustrated by: A.L. Kaplan
Colored by: Roman Titov
Lettered by: Jim Campbell
Cover by: Francesco Francavilla
Variant Covers by: Francesco Francavilla, Tim Jacobus, Miguel Mercado with Cover Design by Dylan Todd, Adam Gorham, Jenny Frison, Bjorn Barends, Dustin Nguyen
Price: $ 3.99 US
Rating: 3 out of 5 stars
Website: www.boomstudios.com
Comments: Nice opening introduction introducing the Nightmare Keeper. The way the art keeps him in shadows, particularly his face works so well to give him an air of mystery and menace.
Isaac and Jordan are two scientist brothers working in an out of the way lab. They are doing something they should not be.
A couple on the beach are just enjoying each other's company. Then they hear something. The sound is from that lab.
Our two scientists have been busy. What they have created is a crime against men. They have done the impossible. Things do not go completely as they want them to. One thing leads to another and things do not go as you might expect them to.
The art delivers and fits well with the story. Nothing about it is outstanding.
The best part of this is the Nightmare Keeper and his library of mysteries. He makes this book and the way he starts off presenting the story and ending the book. He makes one fine host for the macabre.
About Author