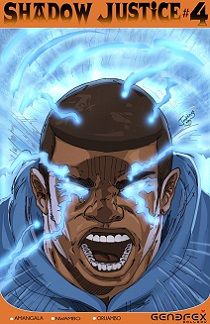 Title: Shadow Justice # 4
Publisher: Genefex Gallery
Story: Joshua Amangala, Randy Ephraim, Genefex Crew
Script: Joshua Amangala, Zinadum Nwambo
Art and Inks: Joshua Amangala, Zinadum Nwambo
Letters: Blambot and Dafont Fonts
Editor: Douglas Oruambo
Price: 300.00 Naira / $ .99 US
Rating: 4 out of 5 stars
Website: genefexcg.blogspot.com/
Comments: "Chapter Four: Destiny"
Diana is a fearsome opponent and Ephraim is learning more about her from the God of Thunder. We are told about the purpose of the Thunder Stones and why they exist.
Diana has power and uses it to release the Akojo-Iku. This is a nightmarish gathering of beasts. These creatures are like something from the deepest bowels of Hell. Malta city is under siege by these demonic things.
Captain-J goes into all out action to protect the city and its citizens. He is drawn in some very acrobatic poses.
The mysterious man in black carrying two guns is a menacing sight. What his roll is is yet to be made known.
Ephraim becomes the new Adiran he is an awesome sight with his lightening powers and the magical ax he wields. He is illustrated in a cool pose that will make you want to come back to see Adiran in action all decked out in his new threads. The action is here and more is coming.
About Author