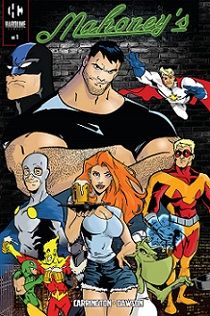 Title: Mahoney's # 1
Publisher: Hardline Comics
Creator/Writer: Richard Carrington
Artist: Brian Dawson
Price: $ 4.99 US
Rating: 4 out of 5 stars
Website: www.hardlinecomics.com
Comments: Mike Mahoney owns a bar for super villains. One of his workers is Kat a red haired beauty. Mike hires a guy called the Blender to work for him serving drinks. These ex villains working here seem like great people.
The overall art style is fun looking.
This bar is a lot more than just a bar.
Mike is a wonderful guy for a ex villain.
A lot of the characters are based off of other ones from two top comic book companies.
Here we do learn how Mike became a bar owner. It is not what one would expect and it involves Captain Superior. All the characters you encounter in these pages are enteraining and likable. You will want to visit Mahoney's Bar.
"Busted" Story and art by Brain Dawson. Here a threesome of super villain's try robbing a bank. Flamer, Serpent and Blood Knight are a almost lame super threesome. These guys are fun to watch in action.
This is a fun comic with fun enjoyable characters. No doom and gloom here. Step up and order a drink and sit back and enjoy.
About Author