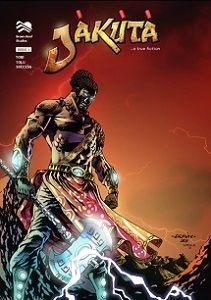 Title: Jakuta # 1
Publisher: Brown Roof Studios
Story: Ayegbusi D. Tobi
Story Edits: Talib Morayo
Art: Ariyibi Toluwalase (Pitch)
Colours: Success Ikupolati
Letters: Samuel Adekanmi
Cover Art: Adedayo Erivic and Tunde Adebona
Variant Covers: McLord Alfred, Okereafor Aanu and Olomola Timothy, Tunde Adebona
Price: free online
Rating: 4 out of 5 stars
Website: www.brownroofstudios.com/
Comments: Jakata is the fallen King of the Oyo empire. He is captured, imprisoned, and about to be executed. Who can save him? His brother Jakuta?
The traditional dress and names used are wonderful to see.
Now the King Jakata has a visit from a lovely being whom it is easy to see welds power.
Jakuta has one big threatening ax. This he takes on his rescue mission along with a few friends. Jakuta is shown showing respect to these two men. They would do whatever he asks without question yet he takes the time to treat them as equals.
The fight scenes are powerful and Jakuta does show skill and the will to win.
The best part of this comic and you can tell this is that it is a comic about Africans by Africans. This story and the art both compliment each other so well and bring across the culture of Africa.
Jakuta is just starting his journey here and it will be something to follow him along with it.
About Author