RICH REVIEWS: Grimm Fairy Tales 2019 Swimsuit Special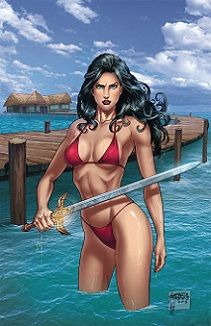 Title: Grimm Fairy Tales 2019 Swimsuit Special
Publisher: Zenescope
Writer: Dave Franchini
Artwork: Eduardo Garcia
Colors: Jorge Cortes
Letters: Taylor Esposito
Cover: Alfredo Reyes with Ylenia Di Napoli
Variant Covers: Noah Salonga with Ceci de la Cruz, Derlis Santacruz with Ula Mos, Michael DiPascale with Sanju Nivangune
Pinup Artists: Mike Krome, Ula Mos, Derlis Santacruz, Sheldon Goh, Noah Salonga, Chris Ehnot, Derlis Santacruz, Monte Moore, Sabine Rich, Eduardo Garcia, Renato Rei, Keith Garvey, Alfredo Reyes, Vinz El Tabanas, Michael Dooney, Andrea Meloni, John Royle & Jagdish Kumar
Price: $ 5.99 US
Rating: 4 out of 5 stars
Website: www.zenescope.com
Comments: "Thumbelina" The art showcases an exciting woman in Princess Thumbelina as she is on the more in a running battle. She does have a cute butt that is shown off in a couple of butt shots. The creatures she battles are well drawn. Thumbelina once she is suited up in armor looks amazing. She is just starting this adventure here and you will want to see more.
Then after this short story we have pin-ups of Zenescope's lovely ladies.
The Peyton "Black Knight" Parks pin-up Artwork by Derlis Santacruz/Colors by Grostieta is a gorgeous beach scene with Payton drawn in a lovely black bikini.
Lady of the Lake pin-up Artwork by Mike Krome this is amazing her rising from the water. No bathing suit for her.
Jazmine pin-up Artwork by Derlis Santacruz/Colors by Sanju Nivangune now this picture is one cute butt shot and her face is cute as well.
Mary "Mystere" Medina pin-up Artwork by Monte Moore/Colors by Ceci de la Cruz. Beautiful design on the bikini. The inspired death design is worked in perfectly.
Keres pin-up Artwork by Vinz El Tabanas. The scenery really stands out in this drawing. The accessories do make the picture.
Britney "Red Agent" Waters pin-up Artwork by Michael Dooney/Colors by Ula Mos. She looks gorgeous rafting down the river. The colors just pop out at you.
The Belle and Freya pin-ups have their information mixed up, they should be reversed.
Erica The Little Mermaid pin-up Artwork by John Royle & Jagdish Kumar/Colors by Mohan Sivakami. This is a beautiful underwater scene with a lovely mermaid. She has a cute face and beautifully drawn hair.
So many beautiful women fill these pages. Your eyes will grow fat on so much eye candy.
Lady of the Lake pin-up A
https://www.firstcomicsnews.com/rich-reviews-grimm-fairy-tales-2019-swimsuit-special/
https://www.firstcomicsnews.com/wp-content/uploads/2016/09/Grimm-Fairy-Tales-Logo-600x257.png
https://www.firstcomicsnews.com/wp-content/uploads/2016/09/Grimm-Fairy-Tales-Logo-150x64.png
Reviews
Rich Reviews
fairy,Grimm,reviews,special,swimsuit,tales
Title: Grimm Fairy Tales 2019 Swimsuit Special Publisher: Zenescope Writer: Dave Franchini Artwork: Eduardo Garcia Colors: Jorge Cortes Letters: Taylor Esposito Cover: Alfredo Reyes with Ylenia Di Napoli Variant Covers: Noah Salonga with Ceci de la Cruz, Derlis Santacruz with Ula Mos, Michael DiPascale with Sanju Nivangune Pinup Artists: Mike Krome, Ula Mos, Derlis Santacruz, Sheldon Goh, Noah...
Richard
Vasseur
Richard.Vasseur@firstcomicsnews.com
Author
Richard Vasseur is a Canadian who has had a love of comic books his entire life. I started out as just a fan reading comics every chance I had. This evolved into writing reviews for a small newsletter which evolved into having my own column at Jazma Online and doing interviews. I also worked briefly as a columnist at Comic's Buyers Guide. Everyday I am involved with doing something comic book related and I love the hobby.
First Comics News