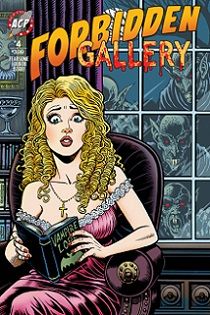 Title: Forbidden Gallery # 4
Publisher: ACP Comics
Front Cover: Steven Butler/Colors Kevin J. Frear
Back Cover: Steven Butler /Colors Kevin J. Frear
Frontis: Daerick Gross Sr
Writers: various
Artists: various
Writer: James Hudnall, Dan Johnson, William Mull & Nicola Cuti
Artist: Luca Cicchitti, Benito Gallego, Karl Comendador & Dan Day
Colorist: Matt Webb, Kevin J. Frear & Daerick Gross Sr
Pin-up colors: Tom Ziuke &  David Roman
Letterer: William Mull
Price: $ 3.99 US
Rating: 4 out of 5 stars
Website: www.acpcomics.com
Comments: "Weird of the Woodchuck"
Here we have a changeling who does good in the world. He has a friend he helps out. This friend though gets annoyed and goes off which leads to the unthinkable. The art is well done and the woodchucks the way they are presented works so well you will start to like them.
"Into the Drink"
Franks learns that drinking and driving do not mix. A short drive away from a complaining wife gets Frank just what he deserves. It is nice to see justice served. The art is done in a style that does not have many frills to it it is basic.
"End of the Line"
Baron Janus is a cruel ruler and his encounter with a band of gypsies gives him a chance to show just how cruel he is. It is always satisfying to see someone who truly deserves to get what he deserves to get it. The story is easy to figure out what is going to happen ahead of time yet it does still entertain. The bestial art is slightly frightening.
"Particle Man Rise of Fukusharm!"
A creature of monstrous proportions is born, Fukusharm. Also, a Goliath is born from a man to become the Particle Man. This is your typical super-hero vs monster story and it is accompanied by some great art. Particle Man looks like something Jack Kirby might have drawn. The cliff hanger ending leaves you wanting more.
"Contamination"
Carelessness leads to danger and germs can be so much more than just a germ as we see an invading force that grows and grows into a threat that can not be stopped.
The Nosferatu pin-up page is innocence and evil mixed just right to terrify your soul.
About Author