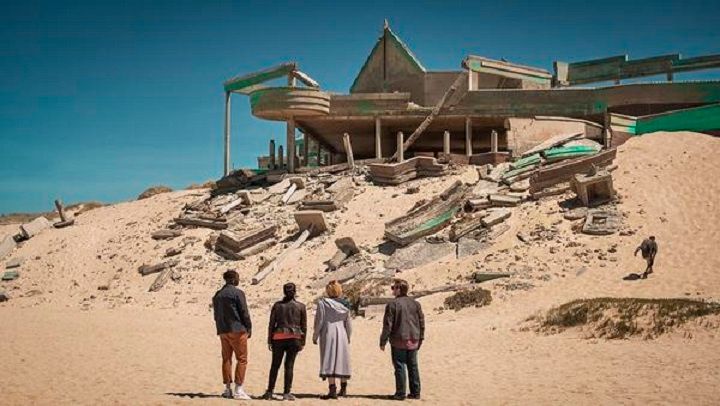 Doctor Who
Season 11, Episode 2 – The Ghost Monument
Jodie Whittaker as the Doctor in Doctor Who.
Ryan (Tosin Cole), Yasmin (Mandip Gill) and Graham (Bradley Walsh) as the companions.
Producer: Nikki Wilson
Director: Mark Tonderai
Written by: Chris Chibnall
Airs Sunday, October 14th from 8pm – 9:10pm ET Still reeling from their first encounter, can the Doctor and her new friends stay alive long enough in a hostile alien environment to solve the mystery of Desolation? And just who are Angstrom and Epzo? Guest Stars: Shaun Dooley, Susan Lynch, and Art Malik.
Run Time: 49 min, 1 sec
Rating: 4 out of 5 stars
Website: twitter.com/bbcdoctorwho
Comments: A woman scoops two of the companions out of outer space. The other two are scooped up by a man in a space ship. The action is fast and exciting. The alien space ships are so cool and the alien planet is wonderfully alien.
The crash landing is thrilling. Than the adventure begins. Two aliens are in a race and the Dr. and her companions show up to go along for the ride.
This Dr. is cute and fun plus someone you want to believe in. The planet Desolation is a dangerous place. You would be glad to haver the Dr. with you. Her confidence comes through. She is inquisitive as to the whys and whats of this alien planet.
This Dr. is impressive. She makes good use of her sonic screwdriver.
The planet is full of mysterious things.
The Dr. yes she gets what she needs. The Tardis may be old but it is entirely new. This is so fun. The Dr. in her Tardis and her companions is done just right.
The little changes to the show are perfect to show this is a new Dr. The Tardis redesign is spectacular. This is everything you could want in a Doctor Who episode.
The Doctor is here!
About Author