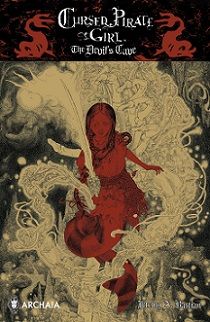 Title: Cursed Pirate Girl: Devil's Cave # 1
Publisher: Archaia/BOOM! Studios
Written, Illustrated & Created by: Jeremy A. Bastian
Price: $ 9.99 US
Rating: 4 out of 5 stars
Website: www.boom-studios.com
Comments: This comic starts off with a wonderfully illustrated gallery. The feel of the seas is there plus a definitely weird touch to the art. The creatures drawn in the gallery are fantastical unrealistic beings that use cause you to use your imagination. Hooskit Thumbtwill gives us a tour of these strange and eye-catching pictures.
Now the Cursed Pirate Girl is on a mission to save her father.
The Cursed Pirate Girl is drawn to look cute yet with some dangerousness about her. The sword looks awesome in her hands.
The Cursed Pirate Girl rides mounted on a fish called Pepper Dice as she travels. The visuals are so strange as this adventure progresses.
The art style is done in black and white and with an old-style to it. The art is very crowded so unless you concentrate you might miss something. There is lots of detail in it.
The main story is easy to follow it is just the things happening along the way that can be hard to understand.
The Cursed Pirate Girl has a friend in a giant squid called Jenny.
The Cursed Pirate Girl is a fun read with lots of excitement. The art is the weirdest you will find and it is definitely something you want to see.
About Author