BLACK PANTHER (2018)
After the death of his father, T'Challa returns home to the African nation of Wakanda to take his rightful place as king. When a powerful enemy suddenly reappears, T'Challa's mettle as King — and as Black Panther — gets tested when he's drawn into a conflict that puts the fate of Wakanda and the entire world at risk. Faced with treachery and danger, the young king must rally his allies and release the full power of Black Panther to defeat his foes and secure the safety of his people.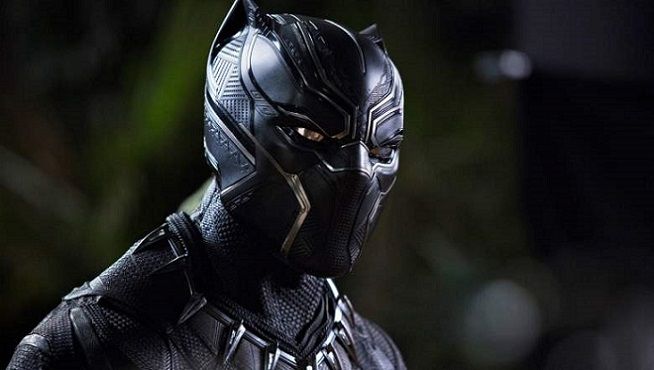 Cast:
Chadwick Boseman as T'Challa / Black Panther
Michael B. Jordan as Erik Killmonger
Lupita Nyong'o as Nakia
Forest Whitaker as Zuri
Andy Serkis as Ulysses Klaue / Klaw
Danai Gurira as Okoye
Angela Bassett as Ramonda
Sterling K. Brown as N'Jobu
Martin Freeman as Everett K. Ross
Daniel Kaluuya as W'Kabi
Florence Kasumba as Ayo
Winston Duke as M'Baku / Man-Ape
Letitia Wright as Shuri

Director: Ryan Coogler
Screenplay: Joe Robert Cole & Ryan Coogler
Comic Book: Jack Kirby & Stan Lee
Cinematography: Rachel Morrison
Music: Ludwig Göransson
Editor: Michael P. Shawver & Claudia Castello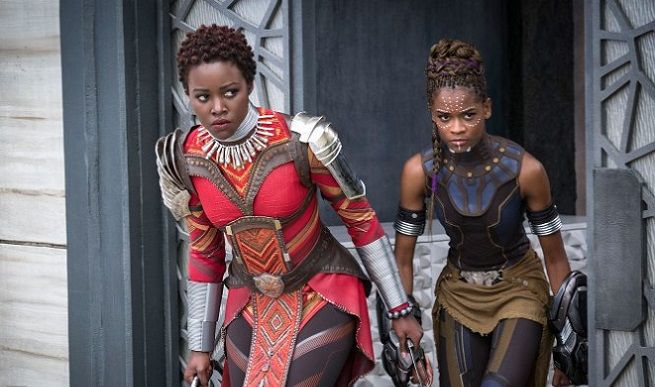 Genre: Action, Adventure, Drama, Science Fiction, Thriller
Rated PG-13
Trailer: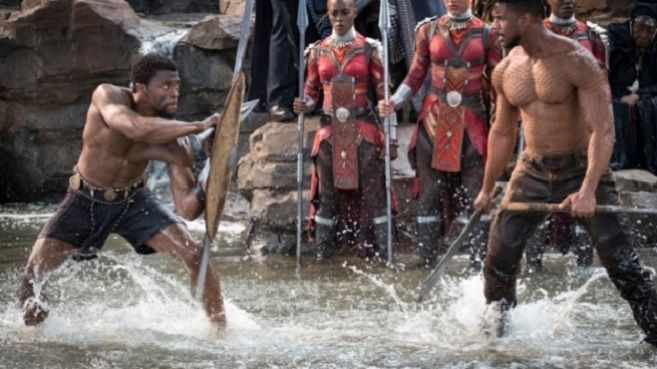 Run Time: 134 min.
Rating: 5 out of 5 stars
Comments: We are given a wonderfully told history of Wakanda and vibranium plus the Black Panther. It is short and to the point but not rushed as it flows so smoothly the narration.
If your a fan of the Black Panther from the comic books you will notice right away there are differences. Major differences in the storylines.
The technology in Wakanda makes it a technological wonder. The special effects are amazingly well done.
The humor does fit nicely between brother and sister with T'Challa and Shuri.
A battle rite for rulership of Wakanda gives you insight into the character. King T'Challa shows what it is to be a king. He fights for his people and with honor. Chadwick Boseman does deliver as an actor. The supporting cast fit right in as well.
Letitia Wright as Shuri is so much fun in the movie. The Back Panther suit is a technological wonder. It incorporates vibranium into its design. The things it can do are astonishing.
Yes, Stan Lee appears in this movie. He is always such a delight to see.
Danai Gurira as Okoye delivers she is amazing in battle. She is a gorgeous warrior.
The car chase scenes will leave you in stunned silence. The excitement and thrills plus the uniqueness of it will have your eyes glued to the screen.
Michael B. Jordan as Erik Killmonger makes a great foe for the Black Panther as well as Andy Serkis as Ulysses Klaue / Klaw. They fit nicely into the story.
Killmonger challenges T'Challa the Black Panther it is a fight to the death for rulership of Wakanda. As one man falls your heart will break.
T'Challa's family and friends do what they can. The Black Panther does not surrender. The Black Panther fights on and he fights for what is right. As a warrior falls you will shed a tear but she is replaced by more.
The movie is filled with so much emotion. You find yourself caring so much for the characters. The loyalty of the Royal Guard is without question. The Black Panther's loyalty to Wakanda is even more so.
The movie embodies both tradition and technology.
The Black Panther is hope. Hope for all the world. That the world can be a better place to live in.
This is a must-see movie.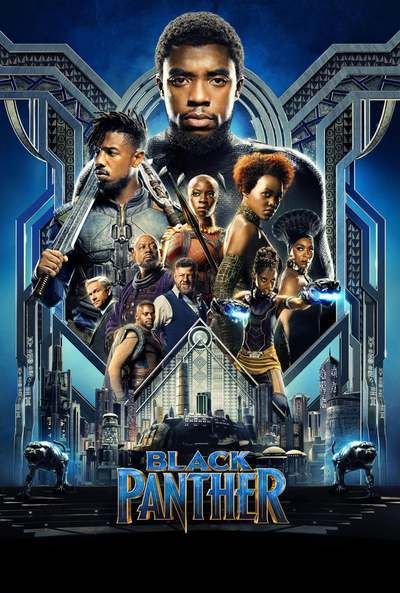 About Author