Award-winning sci-fi BEYOND THE TREK beams home this September!
We've just announced the VOD/DVD (Walmart only) release of BEYOND THE TREK.
Beam up one of the most exciting science-fiction adventures of the month, Beyond the Trek available September 5 from Screen Media.
Winner of at least nine major film awards including Best Feature Films at the Los Angeles Movie Awards and Best Sci-Fi Feature at the New York Science Fiction Film Festival, Beyond the Trek is "Visually stunning and thematically engrossing…" (Indie Horror) and is "Reminiscent of an episode of Star Trek or 2001: A Space Odyssey…you feel completely immersed in this futuristic world" (Tai Freligh, Flickering Myth).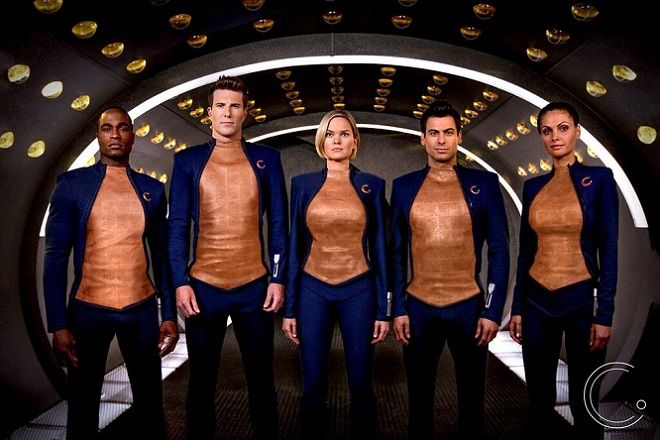 Five genetically engineered "perfect" humans are sent on a rescue mission to Titan, where only one man has survived a ruined expedition to retrieve a vital cargo. Under the stress of isolation in outer space, the five perfect humans begin to exhibit formerly-concealed character flaws that threaten to tear the mission (and their chances for survival) apart.
Sunny Mabrey (Snakes on a Plane, Species 3), Michael Nouri (The Hidden, TV's "Damages"), and Lance Broadway (Olympus Has Fallen) star in an Ian Truitner film, available on VOD and DVD (exclusively from Walmart) September 5.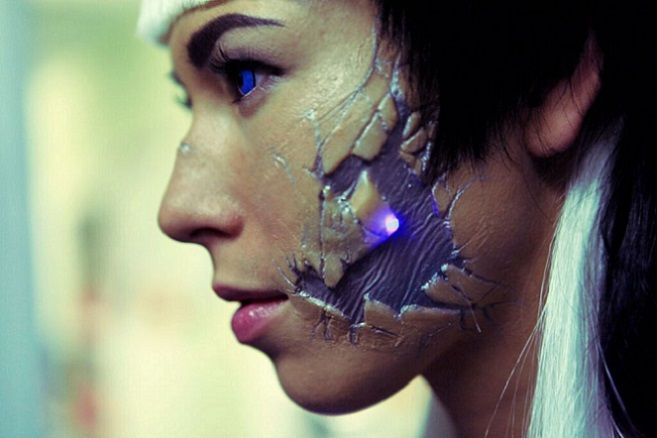 Says director Ian Truitner, "Beyond the Trek reflects back to classic Sci-Fi in its aim to challenge how we see the world and ourselves. It's not the frantic spectacle of special effects extravaganzas made by huge studios, rather we aimed to draw audiences in with suspense, multidimensional characters, and thought-provoking themes. After a successful, a festival run that saw the film screen for Sci-Fi fans around the world, Beyond the Trek is now available to everyone!"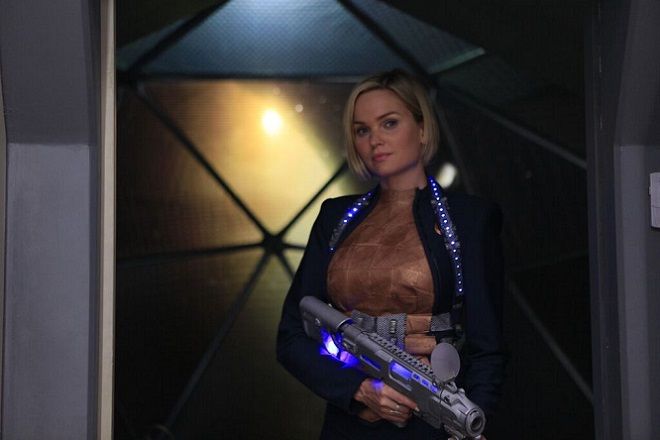 Studio: Screen Media
Director: Ian Truitner
Cast: (in credits order)
Sunny Mabrey … Iris Duncan
Lance Broadway … Commander Linden
T.J. Hoban … Chris Zimmer
Christian Pitre … Emma Anderson
Mykel Shannon Jenkins … Doctor Orson
Ursula Mills … Lulu AH-320
Weetus Cren … Travis O'Neill
Michael Nouri … Nordham
Produced by:
Gabriella Cristiani …. associate producer
Matthew Gore …. producer
Hayley Helmreich …. producer
Jeffrey Magnussen …. executive producer
Chuck Parker …. co-producer
Merik Pelletier …. interactive media producer
Beyond the Trek (under original film title "Teleios")
Trailer:

Run Time 90 min
Rating: 4 out of 5 stars
Comments: Great special effects and nice music start this movie off.
GC Humans crew the ship, they are genetically engineered humans made to be better. They do arrive at a spaceship to mount a rescue mission if there are survivors.
The Captain Linden of the Teleios comes across as a little emotionless. Iris Duncan the First Officer is a gorgeous short haired blonde. The actress playing the Doctor does show talent.
Doctor Orson is the expert for engineering and science he is a young man with a certain flair to his personality.
O'Neill is the sole survivor and his robot Lulu. He has come to think of Lulu as alive. Why?
Emma and Chris the other two rescue crew members are getting close. Chris's eyes have something weird about them. Emma is a cutey.
Emma for a genetically enhanced human and a deep space rescue crew member is emotionally on edge. Something seems to be affecting the rescue crew. It is a mystery.
The crew of the Teleios has a mission to retrieve the cargo. That is their number one priority.
For the start, the show is low key. Things do get more exciting as the movie goes on. Things do really start getting interesting as the show takes some unexpected twists and turns.
Humans, robots and enhanced humans is one better than the other? Which one is best at surviving?
Love can be felt by everyone.
The ending here does leave you wondering.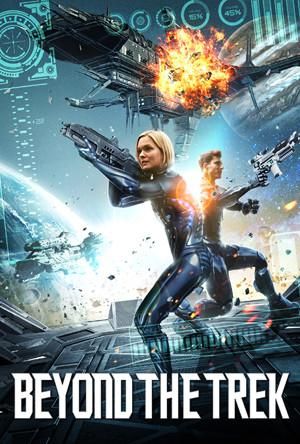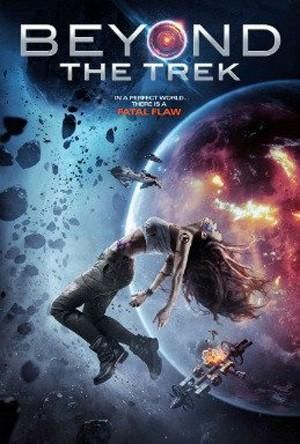 Follow OCTOBER COAST online:
FACEBOOK: http://www.facebook.com/octobercoast
TWITTER: https://twitter.com/octobergang
INSTAGRAM: https://www.instagram.com/octobercoastpr
About Author