WGN AMERICA SECURES THE U.S. RIGHTS TO MUSE ENTERTAINMENT AND BACK ALLEY FILMS' GRIPPING ORIGINAL SERIES 'BELLEVUE,' STARRING
ACADEMY AWARD WINNER ANNA PAQUIN, PREMIERING EARLY 2018
Star Anna Paquin Executive Produces Original Series, Alongside Creators Jane Maggs and Adrienne Mitchell, with Janis Lundman, Michael Prupas, Morwyn Brebner and Jesse Prupas
Bellevue CBC Home Page: http://www.cbc.ca/bellevue/
Los Angeles, July 31, 2017 – WGN America announced today that it has acquired the U.S. rights to the compelling original drama series "Bellevue," starring Academy® and Golden Globe® winner Anna Paquin ("True Blood," "Roots"), who executive produce alongside creators/showrunners Jane Maggs ("The Offering") and producer/director Adrienne Mitchell ("Bomb Girls," "Durham County"). The eight-episode, one-hour drama is produced by Muse Entertainment and Back Alley Film Productions and also stars Shawn Doyle ("House of Cards," "Fargo") and Allen Leech ("Downton Abbey," The Imitation Game). "Bellevue" will premiere in early 2018 on WGN America.
Welcome to "Bellevue" – a small town with big secrets. Twenty years ago the murder of a young woman traumatized the community. Now the killer is back. Or is he? When a high school hockey star wrestling with his gender identity goes missing and all signs point to foul play, Detective Annie Ryder (Anna Paquin) must unravel all the pieces to this gripping mystery before her own life falls apart. As the case pulls her further away from her family, she is also confronted by a mysterious person from her past with disturbing answers and a terrifying need to get inside her head. Along the way, Annie must navigate a complicated relationship with her on again, off again ex, Eddie (Allen Leech) and her boss on the force, Police Chief Peter Welland (Shawn Doyle).
Award-winning actress Anna Paquin is best known for her seven-season starring role as Sookie Stackhouse in the hit series True Blood. Born in Canada and raised in New Zealand, Paquin began acting at the age of 11 with her breakout role in The Piano, which earned her an Academy Award for Best Supporting Actress, making her the second youngest winner in Oscar history. She has since had a successful career, boasting high profile roles in the X-Men film franchise, Bury My Heart at Wounded Knee, The Courageous Heart of Irena Sendler, The Squid, and The Whale, 25th Hour, Finding Forester, Almost Famous, Amistad, Buffalo Soldiers, A Walk on the Moon, Fly Away Home, Jane Eyre, The Romantics, Margaret, Straight A's, and History's remake of Roots. Paquin also stars in the upcoming CBC and Netflix mini-series, Alias Grace.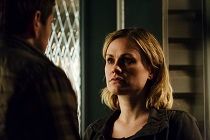 Canadian actor Shawn Doyle has won two ACTRA awards for his performance in The Eleventh Hour and The Disappeared, a Gemini award for Eight Days to Live, and a Canadian Screen Award for John A: Birth of a Country. Other TV credits include the series Lost, CSI, Hannibal, Lie to Me, End Game, Republic of Doyle, Rookie Blue, 24, Desperate Housewives, Reign and Big Love. Doyle can also be seen in the CBC drama series This Life; the Syfy series The Expanse; and the upcoming Netflix series Frontier.
Allen Leech is an Irish stage, television and film actor best known for his role as chauffeur-turned-son-in-law Tom Branson on the Golden Globe and Emmy-winning historical drama Downton Abbey. Leech is a three-time SAG award winner and has appeared in television series The Tudors and Rome. He also starred in The Imitation Game opposite Benedict Cumberbatch and Keira Knightley, which was nominated for five Golden Globes and eight Academy Awards. Leech can also be seen in Jonathan Mostow's The Hunter's Prayer with Sam Worthington.
"Bellevue" is produced by Muse Entertainment and Back Alley Film Productions and is co-created by Jane Maggs and Adrienne Mitchell who is also the lead director. The other directors are April Mullen and Kim Nguyen. The U.S. premiere of "Bellevue" follows the series' lauded debut on Canada's CBC.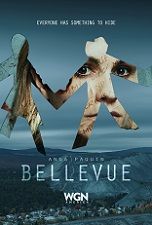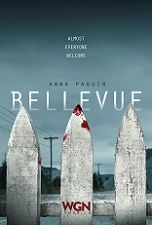 Bellevue Trailer: https://www.youtube.com/watch?v=_T3nEL7f4so
Series Directed by:
Adrienne Mitchell … (4 episodes, 2017)
April Mullen … (2 episodes, 2017)
Kim Nguyen … (2 episodes, 2017) Series Writing Credits
Jane Maggs … (created by) (8 episodes, 2017)
Adrienne Mitchell … (created by) (8 episodes, 2017)
Deborah Nathan … (7 episodes, 2017)
Alexandra Zarowny … (7 episodes, 2017)
Morwyn Brebner … (1 episode, 2017)
Thomas Pound … (1 episode, 2017)
Waneta Storms … (1 episode, 2017)
Series Cast:
Anna Paquin … Annie Ryder 8 episodes, 2017
Shawn Doyle … Peter Welland 8 episodes, 2017
Billy MacLellan … Brady Holt 8 episodes, 2017
Sharon Taylor … Virginia Panamick 8 episodes, 2017
Janine Theriault … Mayor Mother Mansfield 8 episodes, 2017
Allen Leech … Eddie Roe 8 episodes, 2017
Madison Ferguson … Daisy Ryder 8 episodes, 2017
Amber Goldfarb … Briana Holt 8 episodes, 2017
Patrick Labbé … Clarence Ryder / … 7 episodes, 2017
Sadie O'Neil … Jesse Sweetland 7 episodes, 2017
Susan Bain … Bev 7 episodes, 2017
Vincent Leclerc … Tom Edmonds 6 episodes, 2017
Victoria Sanchez … Maggie Sweetland 6 episodes, 2017
Joe Cobden… Father Jameson 6 episodes, 2017
Emelia Hellman … Bethany Mansfield 6 episodes, 2017
Cameron Roberts … Danny Debessage 6 episodes, 2017
Robert Naylor … Jacob Cowan 5 episodes, 2017
Raphael Grosz-Harvey … Sid Oak 5 episodes, 2017
Patrick Abellard … Jim 5 episodes, 2017
Andreas Apergis … Neil Driver 4 episodes, 2017
Ryan Doherty … Max Bennett 4 episodes, 2017
Habree Larratt … Young Annie 4 episodes, 2017
Marianne Farley … Jackie Edmonds 3 episodes, 2017
Angela Magri … Sandy Driver 3 episodes, 2017
Anton Koval … Vincent 3 episodes, 2017
Neil Napier … Rainmaker Jed Martin 2 episodes, 2017
Jenna Wheeler-Hughes … Young Lily 2 episodes, 2017
Catherine Kidd … Cali 2 episodes, 2017
Larry Day … Mr. Cowan 2 episodes, 2017
Chimwemwe Miller … Jonny V 2 episodes, 2017
Donovan Reiter … Mystery Figure 2 episodes, 2017
Laura Mitchell … Helen Spencer 1 episode, 2017
Kent McQuaid … Randy Oldring 1 episode, 2017
Ken Proulx … Dishwasher 1 episode, 2017
Patricia Summersett … Nikki Ryder 1 episode, 2017
Jérémie Earp-Lavergne … Young Peter 1 episode, 2017
Noah Nethercott … Adam 12 Years Old 1 episode, 2017
Carson MacCormac … Adam 16 Years Old 1 episode, 2017
Juliette St-Pierre … Annie 3 Years Old 1 episode, 2017
Johan Strombergsson-Denora … Luke 1 episode, 2017
Dany Cardinale … Construction Driver 1 episode, 2017
Victoria Diamond … Claire 1 episode, 2017
Andrew Zadel … Man #2 1 episode, 2017
Alexia Alderson … Teen Girl 1 episode, 2017
Liana Montoro … Nurse Julie 1 episode, 2017
Joseph Napolitano … Young Tom 1 episode, 2017
Skyler Arya … Young Maggie 1 episode, 2017
Aymeric Jett Montaz … Interview Boy #1 1 episode, 2017
Amir Sám Nakhjavani … Joey 1 episode, 2017
Martin Roberts … SOCO Officer 1 episode, 2017
Arjuna Boucher … Hockey Boy #1 1 episode, 2017
Jason Cavalier … Max's Dad 1 episode, 2017
Juan Grey … Cashier 1 episode, 2017
Steven Love … Young Jameson 1 episode, 2017
Victor Andres Turgeon-Trelles … Dwayne 1 episode, 2017
Robert Crooks … Jogger 1 episode, 2017
Samuel Gauthier … Hockey Boy #2 1 episode, 2017
Karl Graboshas … Anthony Greene 1 episode, 2017
Léa Roy Léa Roy … Sarah 1 episode, 2017
Skyler Clarck … Cassie 1 episode, 2017
Peter Miller … Mr. Debessage 1 episode, 2017
Katie Malloch … Katie 1 episode, 2017
Leif Anderson … Man at Basecamp 1 episode, 2017
Cleopatra Boudreau … Girl with Jim 1 episode, 2017
Matt Goldberg … Mr. Terry 1 episode, 2017
Ryan Stick … Man #1 1 episode, 2017
Olga Montes … Maggie's Relative 1 episode, 2017
Series Produced by: 
Morwyn Brebner … executive producer (8 episodes, 2017)
Teresa De Luca … co-producer (8 episodes, 2017)
Elissa Lewis … associate producer (8 episodes, 2017)
Janis Lundman … executive producer (8 episodes, 2017)
Jane Maggs … executive producer (8 episodes, 2017)
Adrienne Mitchell … executive producer (8 episodes, 2017)
Anna Paquin … executive producer (8 episodes, 2017)
Jesse Prupas … executive producer (8 episodes, 2017)
Michael Prupas … executive producer (8 episodes, 2017)
Jeremy Spry … associate producer (8 episodes, 2017)
Waneta Storms … co-producer (8 episodes, 2017)
Evan Tussman … associate producer (8 episodes, 2017)
Diandra Yoselevitz … producer (8 episodes, 2017)
Nick McAnulty … digital producer (uncredited) (8 episodes, 2017)
WGN America and Tribune Studios
WGN America, the flagship entertainment destination of Tribune Media Company (NYSE: TRCO), is a nationally distributed television network available in approximately 80 million homes via cable, satellite, and telco. The network features a strong slate of popular, first-run syndicated dramas, comedies and blockbuster movies celebrated by fans across the country. Stay connected to WGN America on Twitter @wgnamerica. For additional information, please visit www.wgnamerica.com.
Muse Entertainment Enterprises
Muse Entertainment is a world-class studio and one of Canada's largest film and television production companies, with its development and production offices in Montreal, Los Angeles, Toronto, and Vancouver. Muse productions have won critical acclaim, large audiences, over 100 international awards, including Emmy Awards, and over 300 award nominations. Muse produces a wide range of primetime comedy and dramatic series, miniseries, television movies, feature films, documentaries, factual entertainment, family programs and animation. Please visit www.muse.ca for more information.
Back Alley Film Productions
Back Alley Film Productions Ltd, founded by Janis Lundman and Adrienne Mitchell, has been producing entertaining, award-winning television for over 25 years. Past work includes the WWII drama series Bomb Girls, which won Outstanding Drama at the 2013 Gracie Awards in Los Angeles and was selected as one of ten series for ITV3's Decade of Great Drama. The series wrapped up with a two-hour MOW in 2014, winning the Canadian Screen Award for Best Dramatic Mini-series or TV Movie. Back Alley's other series include the critically acclaimed crime series Durham County, billed by the New York Times as "entirely addictive" as well as the series Played, Bliss, Straight Up and Drop the Beat. Back Alley has offices in Toronto and Montreal. For more information visit: www.backalleyfilms.ca

Episode 1: "Pilot"
Run Time: 43 min, 49 sec
Rating: 5 out of 5 stars
Comments: The series starts off with an intense moment. Detective Annie Ryder does what she has to to get the job done.
The opening music has a weird mysterious sound to it as the town of Bellevue is shown.
The characters are all wonderful actors and each does their individual rolls proud. They bring the characters to life. You find yourself right away liking or disliking various people.
A mystery occurs as a teen Jesse goes missing.
The way the show builds by giving you insight into what helped make Annie who she is today is wonderful to see, it builds her character and lets you in.
The story has a way of drawing you in. The way clues to what is going on pop up and what they tie into will have you clued to this show.

Episode 2: "He's Back"
Run Time: 43 min, 58 sec
Rating: 5 out of 5 stars
Comments: The opening sequence and music is so creepy and mysterious. As the show goes along things do start happening. The best part is following Annie as she goes on about her investigation and the people she interacts with.
The way the culprit seems to tie into Annie's childhood adds a weird touch to everything that is going on. It makes Annie personally involved.
Here we see Bellevue is in Ontario, Canada which makes for a great backdrop for the series.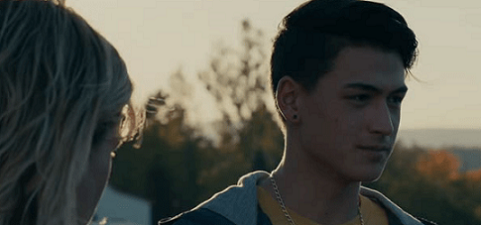 Episode 3: "The Guy with Fire in His Eyes"
Run Time: 43 min, 59 sec
Rating: 5 out of 5 stars
Comments: Annie is not the only part in this series that is portrayed powerfully so is Maggie Jessie's mother. We see the flaws in the characters as we are meant to. No one in Bellevue is perfect just like in the real world.
Anna Paquin delivers a riveting performance that will have you watching every second of this series. All the actors as well are so talented.
Lots happens in this episode. Things are getting dangerous for Annie.
Annie's relationship with her ex is really screwed up. You will have a hard time figuring what is going on with these two in their love/hate relationship.

Episode 4: "Hello Little Light"
Run Time: 43 min, 59 sec
Rating: 5 out of 5 stars
Comments: The investigation continues. Suspects continue to be found and so do clues. Emotions are high in this episode.
The show does a lot more than just show the investigation. It takes you into the lives of the townspeople. The show is so compelling. The more you watch Annie the more you want to see of her. She has a way of getting inside your head and staying there.
This show just makes you think about it.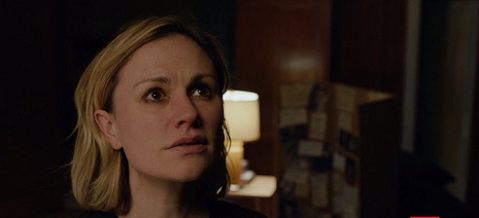 Episode 5: "How Do I Remember?"
Run Time: 43 min, 59 sec
Rating: 5 out of 5 stars
Comments: The filming shows off the countryside and the town beautifully.
Annie at times seems like she is about to lose it. Yet she is a detective working on a case.
Every scene in this show is so charged with emotion. Maggie Jessie's mother is stressed out over what happened but is there more to it.
Annie is so beautiful and sexy. It is heartbreaking to see her sad all the time. Her life is a mess with her ex and their relationship. It is hard to figure out what either wants or what they should want.

Episode 6: "The Problem With the Truth"
Run Time: 43 min, 59 sec
Rating: 4 out of 5 stars
Comments: Does this case tie into one from a long time ago? It does seem as if it is possible.
The case does start getting more involved. Lots of things do start to come to light.
Annie's relationship with her ex is becoming more strained. This is also affecting her relationship with her daughter. This episode concentrates more on her private relationships than the case she is working on.
Annie is starting to lose it. The clues we see will have you thinking trying to figure out what is going on.

Episode 7: "The Man Behind the Curtain"
Run Time: 44 min, 4 sec
Rating: 5 out of 5 stars
Comments: Annie is a mess but she can and does still do her job. Annie just keeps going she will not let up. This episode she does find another suspect. There are a lot of possible suspects. Anyone could have had a reason.
Some surprising things come out in this episode. They will come at you out of nowhere.

Episode 8: "You Don't Understand Me At All"
Run Time: 44 min, 4 sec
Rating: 5 out of 5 stars
Comments: Just when you thought things might be winding down they spring at you with more drama, action, and suspense. It is amazing the way this story flows revealing only certain things as it goes.
The other people Annie hangs out with her daughter Daisy, her ex Peter, her boss Brady and all the others is what helps so much to make this series outstanding. Seeing how Annie reacts to them all.
The emotions are so strong here. You will feel so much for Annie and all she has gone through. All you will want for her is happiness while knowing she will never fully have it. You will shed a tear for her.
About Author