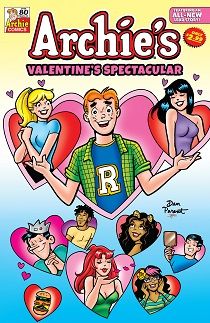 Title: Archies Valentines Spectacular 2022
Publisher: Archie Comics
Stories: Jamie Lee Rotante, Kathleen Webb, George Gladir, Dan Parent
Pencils: Bill Galvan, Jeff Shultz, Dan Parent
Inks: Ben Galvan, Henry Scarpelli, Jon D'Agostino, Jim Amash
Cover: Dan Parent
Colors: Glenn Whitmore, Barry Grossman
Price: $ 2.99 US
Rating: 4 out of 5 stars
Website: http://www.archiecomics.com
Comments: "A Not-So-Sweet Romance" Poor Archie being irresistible to girls can be a curse. He is a great guy yet even for him life gets in the way of things. The art does look great for the most part. Betty and Veronica's faces are drawn a bit off.
"Object of Affection" The one person who does know how to beat Ronnie at her own game is Jughead. He is a master at manipulation as much as Ronnie is with guys. Poor Ronnie she never stood a chance. The art is gorgeously done in the traditional Archie style.
"Romance Throughout History!" Love throughout the ages is still loved. Archie does have his ups and downs as he struggles in any time period.
"Isn't It Romantic?" Miss Grundy is a very talented teacher. She also has many other talents and being a romantic is one of them. Betty and Veronica do get to enjoy having her in their lives. She is so much more than just their teacher.
The stories here all involve romance in one form or another and the art is looking fabulous. All the teens are having fun and you will too as you read this.
About Author