ADVENTURES OF MISS FIT
ADVENTURES OF MISS FIT
Professional bodybuilder Denise Masino has spent her life striving for the physical perfection of a superhero. When she discovers there are people calling themselves real-life superheroes (dressing in costume and fighting crime!) she embarks on a journey across the U.S. to get to the bottom of this incredible story. Skeptical about the mission and sometimes the sanity of the colorful characters she meets, she is also charmed by their heart and personality. When faced with a devastating personal crisis, she responds to adversity in her own life by releasing her own inner hero and in a series of life changing events, discovers her true mission in life.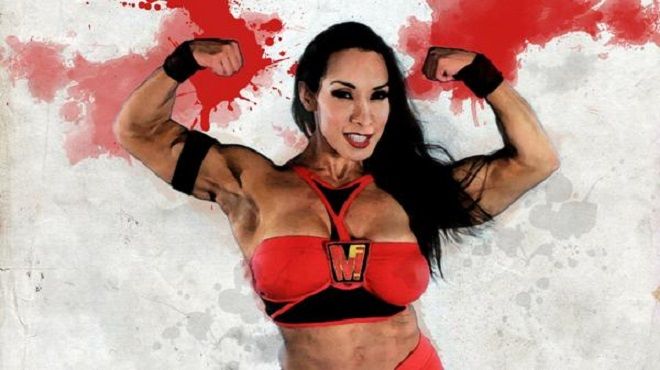 A Llama Pictures picture.
Produced by: Gregg Simpson & Denise Masino
Songs by: Markland & The Little Miss
Sound Design by: Michel Tyabji
Music by: Bruno Coon
Edited by: Gregg Simpson, Amir Barda, and Matthew Chilelli
Directed by: Gregg Simpson
Los Angeles heroes:
Denise Masino a.k.a. Miss Fit
Sakura Tora
The Handler & Gio
Sage
White Scorpion
Good Samaritan
Kuroshi No Santo
Cheyenne Koi
Danger Man
Friction
Flower Power
San Diego Heroes:
The Grimm
Urban Avenger
Emerald Fael
Rouroni
Mr Xtreme
Vigilante Spider
Bearman
Blue Alpha
Crimson Crow
Divine Force
Paratrooper
The Blue Angst
Radnor
The Nyght
Northern California Heroes:
Rock N. Roll
Night Bug
Vector
Olde School
Cheshire Cat
Waffle Cat
Seva
Super Latina
Super Chicano
Draco
Eon
Hawt Flash
Celia Shure
Oregon Heroes:
Zetaman
Danger Man
Knight Owl
Antiman
The Blue Blaze
Washington Heroes:
Skyman
Midnight Jack
Templar
Pitch Black
White Baron
Victim
John Drop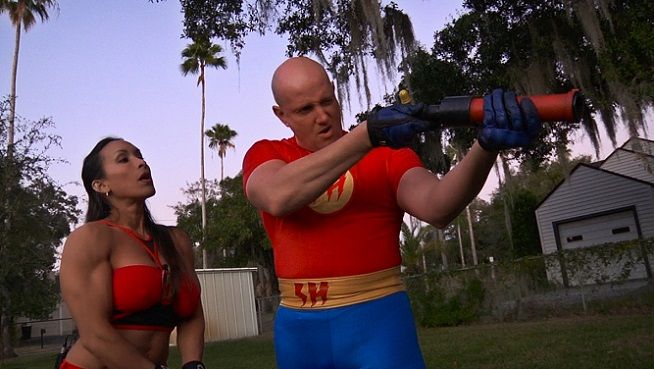 Florida Heroes:
Master Legend
Superhero
Ladyhero
Artisteroi
Salt Lake Heroes:
Nihilist
Professor Midnight
New York Heroes:
Razorhawk
Geist
Super Mom
Washington D.C. Heroes:
DC's Guardian
Chicago Heroes:
Moon Knight
Nevada Heroes:
Phantom Patriot
Mississippi Heroes:
Violet Valkyrie
The Hope
Canada Heroes:
Thanatos
Anonyman
Villians:
Octavius Fong
Kaptain Blackheart
The Baroness
Civilians:
Ana & Sammy Sanchez
The Sanchez Family
The Castellano Family
Jennifer Campbell
Jose Gonzalez
Chuck Norman
Peter Tangen
Tea Krulos
Lydia Sorto
Tony Fernandez
Kerstin Schulze
Nancy Lai
Marc Bossley
Chuck Van Patten
Shannon McCann
Andrea Kilgannon
Website: www.adventuresofmissfit.com
Run Time: 1 hour 27 min 58 sec
Rating: 5 out of 5 stars
Comments: Great music gets you into the mood for this movie as it starts. The opening scene certainly gets your attention.
This film is about Miss Fit aka Denise Masino finding out about real life Super-Heroes. Miss Fit does look extremely fit and very beautiful. Miss Fit does interview some of these real-life superheroes.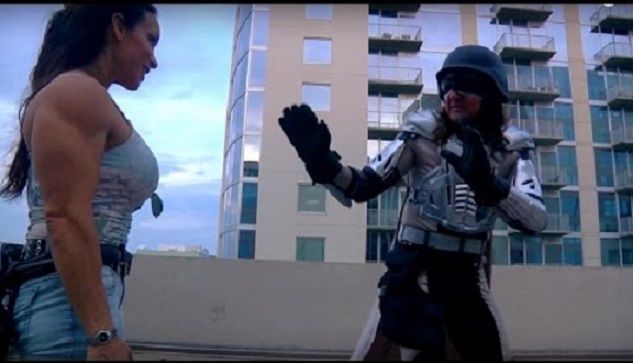 Master Legend is her first interviewee. He does fight crime. He comes across as a dynamic person. He is an ordinary guy and also a super-hero. He does come across as eccentric but you can tell he is a good guy. He had a troubled past. Now he is a real life super-hero in life. His heart is in the right place.
Miss Fit also meets Danger Man. He does train. His main goal is to make money with sponsors. He takes risks in doing stunts.
Antiman and Blue Blaze are two super-heroes who look the part. In their costumes, they stand out. These guys come across as weird.
Zetaman is just a guy who wears a costume and helps people. He helps the homeless giving them supplies the cost coming entirely from his own pocket. That is a true hero. Geist, Zero, Nihilist, Midnight Jack. Rock N. Roll, Sage are all superheroes who help out others.
Superhero yes his superhero name is actually Superhero. He comes across as a great guy.
Razorhawk is also shown here.
Denise gets to dress up as a superhero herself. So Miss Fit is born. She then goes to an event to raise money to help the homeless.
Knight Owl, Vigilante Spider, Bearman, Anonyman, Moon Knight (yes he is modeled after the Marvel character), Crimson Crow, Superhero, Ladyhero, The Handler, DC's Guardian, Razorhawk, Mr. Xtreme, Olde School, Sage, Emerald Fael, Sakura, The Grim, Nihilist, Night Bug all these heroes got together to help the homeless not because they have to but because they want to. They give of their time. Their mission is simply to help others. They show they care. Miss Fit gets right in there too.
Miss Fit does get into the lives of these super-heroes.
We are also given a look at Denise Masino. She is a body builder and created a magazine about body builders who pose nude including herself. It promotes the beauty of female body builders. We are given a look at her family as well. She does have a great love for them. That's made clear. Her aunt is a hero battling cancer.
Guardian Angels are represented in the film too. They are a wonderful group that patrols the streets working with the police and they help people.
St. Jude's Warrior Dash is a group of Miss Fit's super-heroes set to raise money for sick kids. Denise set this up to help children. The Warrior Dash was a great event that pushed people to push themselves.
These real life superheroes are real heroes.

About Author