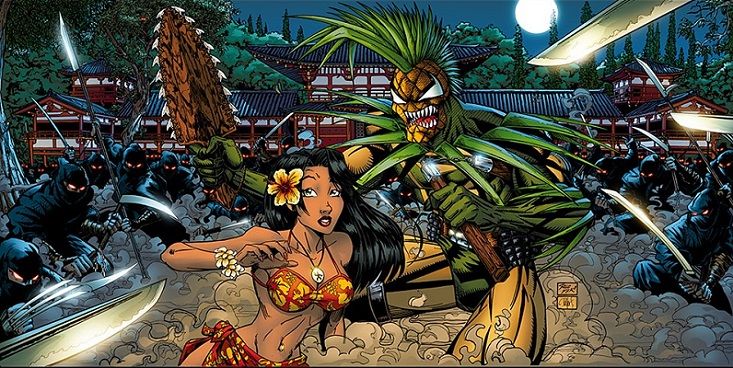 First Comics News: How was Kaaawaski Productions formed?
Sam Campos: Kaaawasaki was formed when I needed a DBA for a Television series that I was trying to produce called DRAGONFLY. The process for getting a name approved for a business can take some time to clear once you verify no one else has already taken the name. So to speed it up, I combined the town I lived in and the motorcycles I grew up riding. 

1st: Who is the Pineapple Man?
Sam: Pineapple Man is the name of a character that I made as a joke in high school just to pass my art class. Years later we decided to resurrect and fine tune him for a larger audience. The Characters name is Isamu Pahoa. The book is called Pineapple Man, but he's not called that at all in the comics. I decided to keep the name because its a derogatory term used by ignorant people to describe Hawaiians. Pineapples are from India and were introduced to the state by Dole. We don't eat it, we just feed it to the tourist. LOL. Also, with a name like Pineapple Man, most people expect a giant Pineapple with tennis shoes. Which is awesome because they are not expecting a Mohawk with teeth.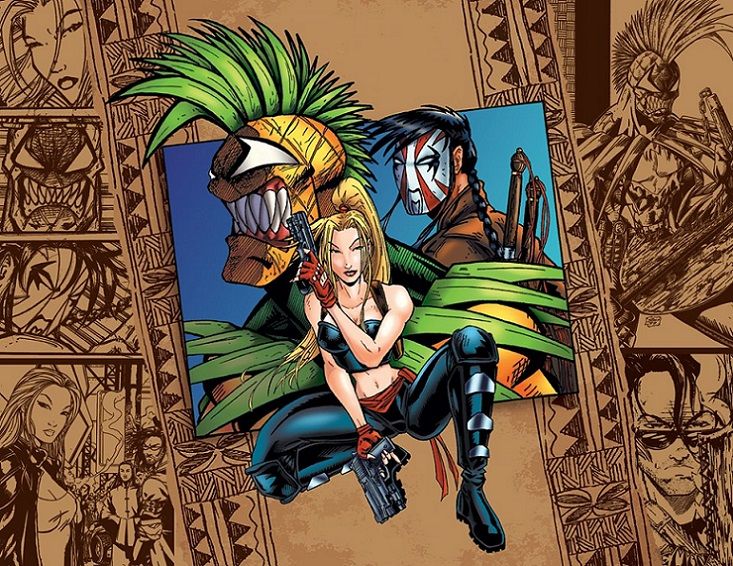 1st: What is the comic "Pineapple Man" about?
Sam: It's about a guy who didn't pay attention to the stories of home and was out for himself. He is shot to death at the temple of the Hawaiian God of War who revives him and recreates him in a version of his own image. Wanted by the Police and the criminals he used to work for, Isamu has to find a way to survive and find out what the meaning of his affliction.
1st: Who are some of the other characters besides Pineapple Man?
Sam: The main character that is in the book besides Isamu are Miyo, Luke, and Kawafuchi. Miyo is Isamu's childhood friend and former love interest. She is his best friend and strongest ally. Luke is a Chinese assassin that works for Miyo. He and Isamu have become friends. Kawafuchi is one of the most powerful crime lords of the Pacific and Isamu's former boss.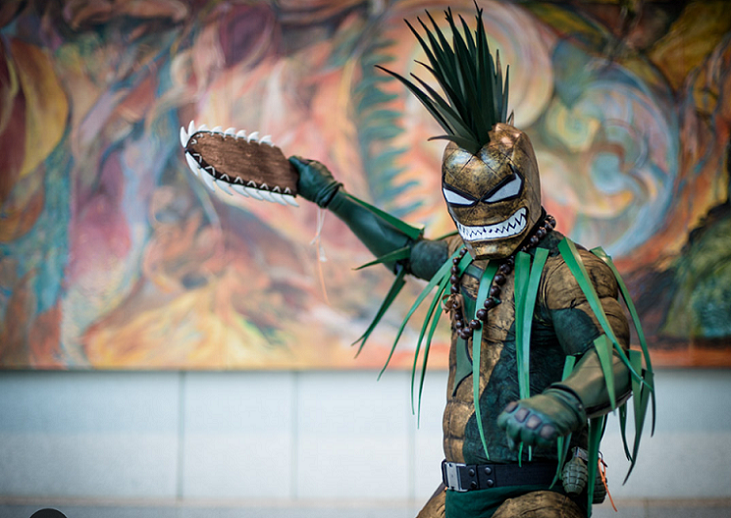 1st: How did you decide to use a pineapple to base a character on?
Sam: Initially it was a joke to just pass the class. But later we changed the origin to be more of Hawaiian Mythology, but the character design was pretty solid so with some modifications, we decided to just go with it. So far so good, most people are intrigued by the character. 
1st: Will there be more "Pineapple Man" comics in the future and what will they focus on?
Sam: More books in the work as we speak! They focus on a Historical figure, Time Travel, Legendary artifacts, beasts, and new heroes.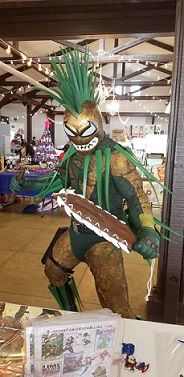 1st: How would you describe the look and his costume accessories functions?
Sam: I would describe the look of the costume and accessories as being a functional byproduct of the many cultures of Hawaii. The Face and teeth are that of the Hawaiian God of War, Kukailimoku. The spikes around the body serve as protection and are similar to the Ali'i cloak and Kupe's that you can see in Hawaiian culture. The nun-chucks are a nod to Chinese culture, the Tabi represent the Japanese influence, the Pineapple grenades…WW2 for the United States of America started in Hawaii with the bombing of Pearl Harbor. The grenades represent that time, plus, they are a great addition to any arsenal. Finally the Lei O Mano, the traditional war weapon made out of Sharks Teeth.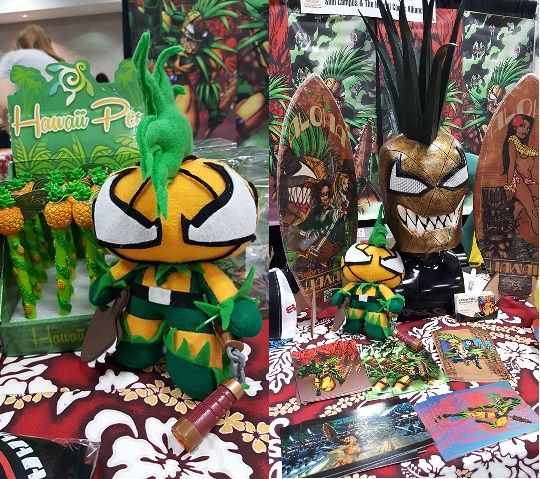 1st: What does the "P" on his chest stand for?
Sam: The P stands for Pahoa
1st: How would you like to meet the Pineapple Man?
Sam: On the live-action movie set!
1st: What else are you currently working on?
Sam: Lots of stuff going on, Promoting the movie "Go For Broke". I was the Unit Production Manager of the film. 4 new Pineapple Man books, and Hawaiian Avenger Kanaka #2. Designing products and we just opened and Sequential Art School this month.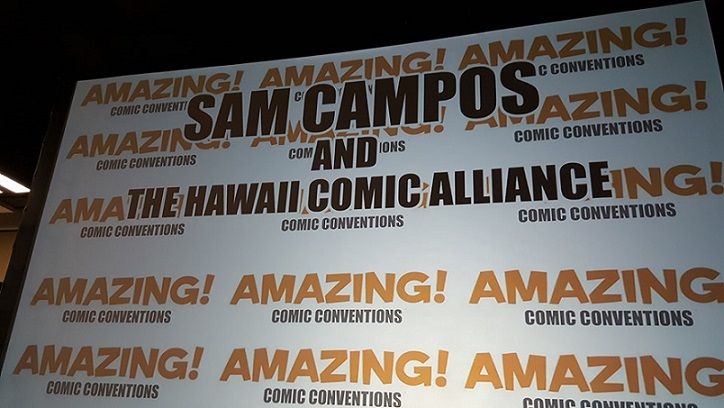 1st: What is the Hawaiian Comic Book Alliance?
Sam: Over the years, people who wanted to make their own books would ask me for advice, so when I decided to come back to comics, I decided to ask several artists if they wanted to form a support group of Hawaii publishers where we could help each other out and network. We represent Hawaii. We are ambassadors of Aloha. 
1st: What is Hawaii like for comic books are they easy to get and are there many based on Hawaii?
Sam: There are a lot of Comic books stores all over the state. With the Hawaiian Comic Book Alliance, there are many books from Hawaii creators and several of them take place in Hawaii but are not limited to Hawaii based subjects or storytelling.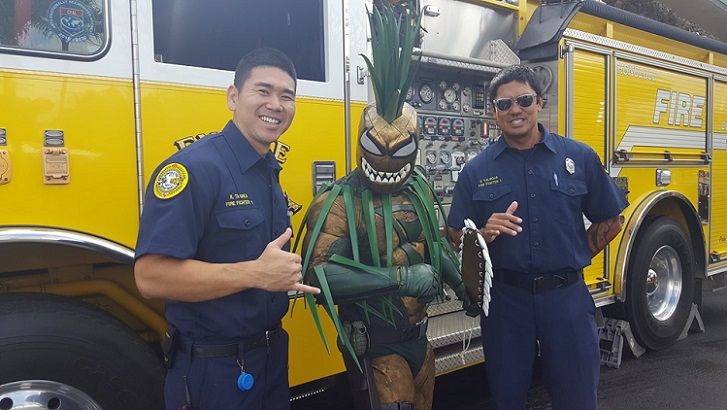 1st: So how important is family in your life?
Sam: Its the most important thing.

1st: What would you like to say to the fans of Pineapple Man?
Sam: THANK YOU SO VERY MUCH!!! I AM THANKFUL AN APPRECIATE YOU!! MAHALO AND ALOHA!!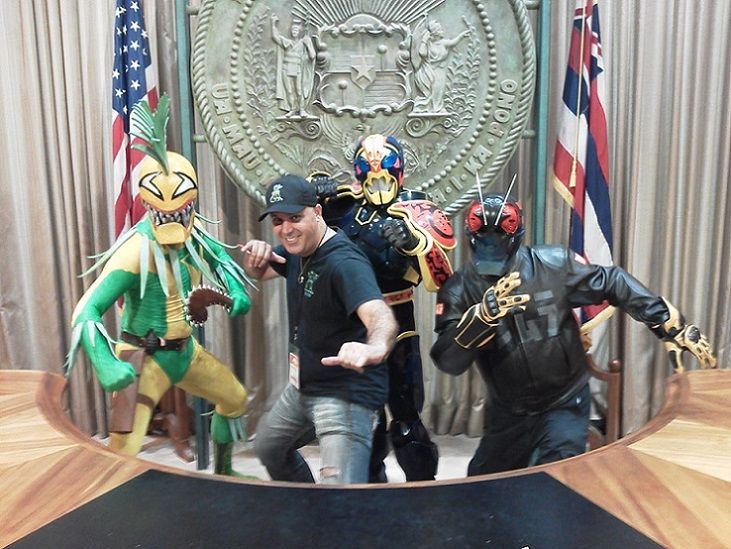 About Author