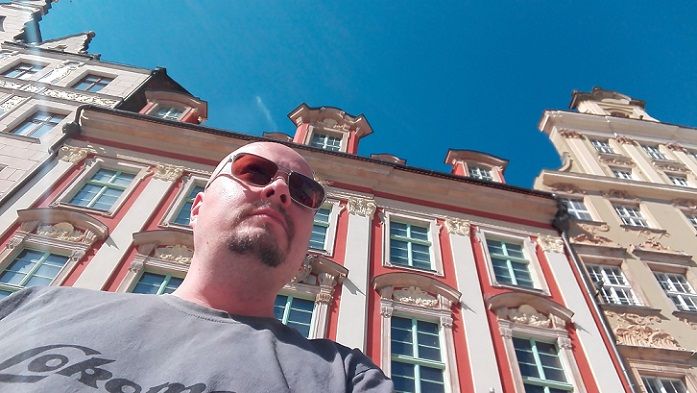 First Comics News: Have you read Shakespeare's Macbeth?

Petri Hanninen: I've read Shakespeare's Macbeth quite many times, and it always impresses me. It's an intense and very emotional story, one of the greatest tragedies.
I've seen Macbeth on stage and watched Orson Welles', Roman Polanski's and Akira Kurosawa's films. Kurosawa's Throne of Blood is a very powerful movie. I've loved it since I saw it as a kid. When the skull piles came out behind the mist, I was like: "What is this film! I love it!" And I did.
In the comic, my basic idea was to bring the story in the front behind the Shakespearean language (which is wonderful and I love it, anyway). I took a word from here and word from there, and created a modern spoken language.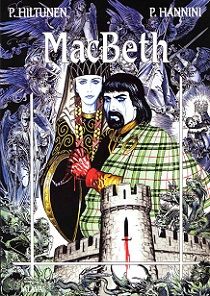 1st: What is the basic story in "Macbeth"?
Petri: Macbeth is a story about lust for power. It's a story about the man and his wife who are ready to murder the King to get the crown.
1st: Do you have a favorite character from "Macbeth" if so why are they your favorite?

Petri: In Macbeth, every other character but Macbeth himself is a bit lame. Kurosawa noticed that too, and in Throne of Blood all the other actors than Toshiro Mifune, who plays Washizu, are almost faceless.
  But, well, everyone loves the witches, right?

Rich: What is Lady Macbeth's character like?

Petri: Lady Macbeth's lust for power is even greater than Macbeth's. She is a very bold woman but in the end, she can't carry the murder on her shoulders, either, and it drives her to suicide.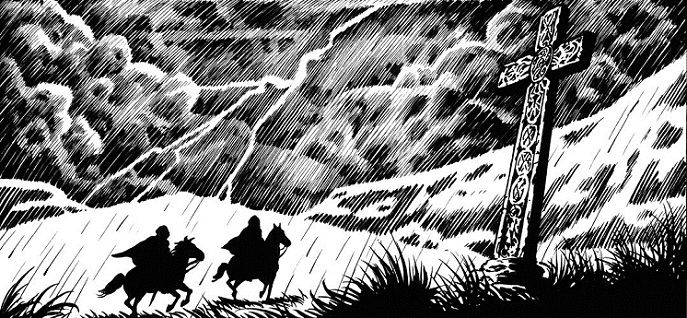 1st: Is Macbeth a hard man, has his upbringing made him tough?

Petri: I don't feel Macbeth is a hard man. He's a simple man who believes in traditional things. Hierarchy and inheritance are the basics of his thinking, and he believes that if the man makes his work well, he will be rewarded.
Then comes the witches who plant an idea of kingship to his mind. Finally, when Macbeth kills his cousin, the King, it makes him paranoid. He knows that if he can break the hierarchy, everyone else can do the same. He starts to see enemies everywhere and when he tries to kill them all, he gets more enemies.

1st: Who is Macbeth's enemy and why are they, enemies?

Petri: Macbeth's worst enemy is himself. Malcolm and Macduff are just merely manifestations of the matter. Macbeth fights with his ghosts, the things he has done, and it drives him insane.
1st: How would you describe the art in "Macbeth" and who is the artist?

Petri: The artist of Macbeth: The Graphic Novel is Petri Hiltunen, great Finnish artist whose graphic novels Markosia has recently started to publish in English. Markosia has already published his Anabasis graphic novel, Macbeth is the second and there's more to come.
Petri has also got Puupäähattu, which is the biggest comics award in Finland. The award is given for life's work.
The key to doing Macbeth was that I did a detailed, thumbnailed script. Petri understood that I've made the work easy to him and he only has to draw. I know, many artists don't like that but for Petri, it was a relief.
I wanted the story to be dark and ominous, and Petri did as I was told. The result is magnificent. I still find myself just looking some panels and wondering how awesome all looks. My sketches were like a dream which the artist has made real. That feeling is incredible.

1st: Would you like to write a comic version of another Shakespeare play?

Petri: Yes! I've always wanted to do Richard III. That's another great tragedy of Shakespeare with a great villain. I've proposed that to Petri Hiltunen for many times but he's so busy nowadays…
1st: What was the story you wrote in "Future Sci-Fi Tales # 2"?

Petri: The Death of a Family is a short horror story, part of some kind of a trilogy. Another two stories are still in my head. The Death of a Family tells about a young man whose life is haunted by his father's madness. All his life he tries to understand why his father tried to kill him and killed his mother.
The artist is an Italian Andrea Meneghin, a great artist too, who has worked including for Markosia and Sergio Bonelli.

1st: What are Moomin Comics?

Petri: Moomin is originally Tove Jansson's comic and children's book series. Comics were very popular in England in 1950s when it was published daily in The Evening News. Japanese love Moomin animation series so as the Finns. Drawn & Quarterly has published Tove Jansson's Moomin comics in English.
  Egmont has published Moomin magazine in Finland and Estonia, and shortly in Great Britain since the 1990s until this day. I wrote Moomin comics to that magazine couple of years and those stories are still republished from time to time. My stories included some small tasks for children.

1st: How does a writer make a story interesting?

Petri: The pace is everything in the story, but I also believe in good characters. When the reader can identify the character he/she will be hooked to them emotionally and starts to follow the story with the eyes of the character.
1st: When did you first decide you wanted to be a writer?

Petri: I've made comics since I was the little kid. I made my first comic book when I was 7 or 8 (it was Beetle Bailey fanzine). I wanted to be a writer when I turned 16. For me, drawing has always been just a way to tell stories. I like to write books, too, but comics is the medium I love and feels my own.
1st: What other comics would you recommend?

Petri: I love classics, like Dark Knight Returns, Maus and almost everything written by Alan Moore, but maybe I should mention some other great comics.
Abandon the Old In Tokyo by Yoshihiro Tatsumi. Shocking crime stories, and very well told. He truly understood manga as a medium.
Corto Maltese by Hugo Pratt. Very intense scenes where people just talk. But the way how they talk…
The Hunting Party by Pierre Christin and Enki Bilal. Very good political drama.
Dragon Fly by Shigeki Maeshima. I've only browsed this because I don't understand Japan at all. But the books look very beautiful, and the art is wonderful.
The Spirit by Will Eisner. He was a genius of visual storytelling, and he created so emotional short stories! I love this series very much, but also Eisner's later works, especially Life Force.
The Shadow: Blood and Judgment by Howard Chaykin. I keep this a part of the "end of the superheroes" trilogy with Watchmen and Dark Knight Returns. It came out at the same time with these two and some of the themes are the same. A great story which I've read many times, with Michael Kaluta's The Shadow stories of course.
Doom Patrol by Grant Morrison and Richard Case. Morrison had a great idea to mix humor and horror. And I love the TV series. Doom Patrol movie had been talked about for a long time, but who would have dared to ask TV series which based on the Morrison era, and it's as good?!
Then there's some Finnish comics published in English, for example, Draw Blood anthology written by Hannu Kesola, Oni Kudaki by Kristian Huitula and Belzebubs by JP Ahonen. Belzebubs is a story of a black metal family and it's been a major hit.
I really tried to make a shortlist…
1st: What would you like to say to those who love your work?

Petri: I would ask them to say hi, because I've never met them, haha! Well, seriously, It makes me very humble to hear when someone has liked my stories, and I've got very good feedback. I love my fans!
  I have a hint for those who like webcomics: join Aces Weekly. I think it's artistically the best continuously published comic magazine at the time.
About Author