Garden of Stars
An enchanted cemetery in Berlin. Next, to the Grimm Brothers' grave, stillborn babies and gay people rest in peace. This is the Garden of Stars.
From Pasquale Plastino & Stephane Riethauser; Garden of Stars explores the life of Ichgola Androgyn, an AIDS activist who runs German's first cemetery café. As an undertaker, Ichgola focuses on stillborn babies. For these so-called "Star Kids", he created a corner with thousands of flowers, pinwheels, elves, fairies, angels, and teddy bears watching over the graves, where parents can find an individual spot for their lost child. Next, to them, many men who wrote key chapters of the Berlin gay liberation movement are resting, victims of the AIDS epidemic. In one of Europe's most colorful cemeteries, the funerary culture suddenly takes a new dimension, and life is celebrated with all its mysteries.
Trailer:
Garden of Stars – English Trailer from Uncork'd Entertainment on Vimeo.
Directed by:
Pasquale Plastino … (co-director)
Stephane Riethauser … (co-director)
Writing Credits (in alphabetical order):
Pasquale Plastino … (co-writer)
Pasquale Plastino … (story)
Stephane Riethauser … (co-writer) Produced by
Christos Acrivulis … co-producer
Pasquale Plastino … co-producer / executive producer
Stephane Riethauser … co-producer / executive producer Music by:
Bruno Moretti
Cinematography by:
Stephane Riethauser
Film Editing by:
Dalia Castel
Sound Department:
Itamar Rosenblum … sound editor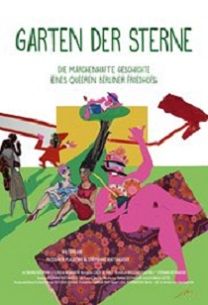 Run Time: 1 hr
Rating: 3 out of 5 stars
Website: http://www.uncorkedentertainment.com
Comments: A story is narrated about a man getting a godfather for his thirteenth child. It is a lovely tale.
Bernd Bossmann lives in Germany where his name is Ichgola Androgyn. This is a weird movie. Yes, the grave site here focuses on gay people and also a place for stillborn babies.
Ichgola is an undertaker but also a graveyard cafe. It is a quaint cafe nice and small and cozy.
The movie has English Subtitles.
Ichgola looks at a cemetery, not as a sad place but a place to remember those you loved. Their memories live on in you.
There is male full nudity so this is a mature film.
There is an HIV memorial.
The graveyard is a lovely place. They even have school tours.
Seeing this place filled with adults and children. The children will play and the adults will talk to each other. It is a comfortable place to go to.
About Author