First Comics News: How has the "Power Company" comic book been doing?

Eric N. Bennett: It's been doing really well. We ran into some speed bumps with production on the second issue but we were determined to correct that and get the third issue done in a far shorter timeframe than the previous issue. We've got a solid creative team in place and things are moving quite nicely.

1st: What do we have to look forward to in issue three of "Power Company"?

Eric: In issue three, we not only welcome two new members to both the team, but Professor Bizarre's worry about the unstable dimensional rifts starts to come to fruition with the return of an old foe very close to the Professor himself. But we start the issue with old-school-style rock 'em sock 'em action with a classic-styled giant monster!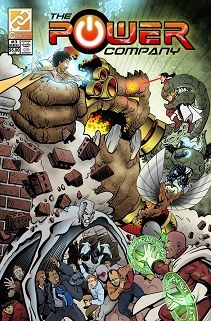 1st: Why use such a huge amount of super-heroes and villains?

Eric: We try to keep the cast down to a manageable level, but the opportunity to have other creators be involved where possible when the story merits it is always awesome. We're a small community, and the more we can support each other the better.
1st: Does Fish Lee's art do each character justice?

Eric: Very much so. Fish is an amazing artist who instantly "gets" each and every character. His art is so expressive and dynamic that it makes me smile a huge smile each and every time he sends a page or draws a character. Plus, he's an extremely talented inker and colorist as well, so the man's a one-stop creative shop! We're extremely lucky he was available and willing to work with us.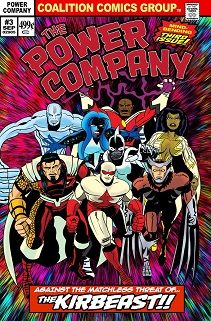 1st: Will this comic remind people of Jack Kirby's work?

Eric: I'm hoping The KirBeast brings a hint of that kind of nostalgia for folks, but Jack's work stands alone.

1st: Who or what is that huge creature the team is battling in issue three of "Power Company"?

Eric: That's The KirBeast, created by artist Fish Lee. I had originally had a different character in mind for the big beastie role, but Fish was disappointed he wouldn't get to design a big Kirby-styled monster, so I tossed my original idea and told him to go to town and have fun. It's important to me that the creative folks with whom I work are enjoying what they're doing so they bring that excitement to the page. And I'm THRILLED with Fish's character design. He's so awesome.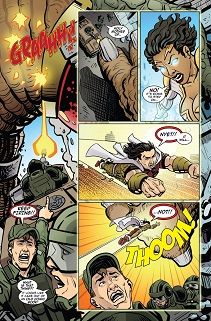 1st: Is it hard to keep track of all the many characters as you write each issue?

Eric: A little. I freely admit I'm a little intimidated by a team of this size, and I want to make sure everyone gets some time. Fortunately, I've got another issue after this one, so if someone doesn't get much time in this issue, I've got plans already to turn that around in the next.

1st: What is the focus of "Power Company" in issue three?

Eric: We wanted to tell a smaller story, something more character-driven. There's a bad guy for sure, but rather than be out and about fighting a whole other team, the bulk of issue three takes place within the team's base of operations (Professor Bizarre's Sanctum). I've been telling the other partners "it's a family affair."

1st: Why should someone pick up "Power Company" over other super-hero comics?

Eric: We hope that the characters and art are dynamic and attractive enough to catch everyone's eyes, but our main goal is to tell the kinds of stories and make the kinds of comics we all enjoyed when we were younger. Just fun, old-school-style comics.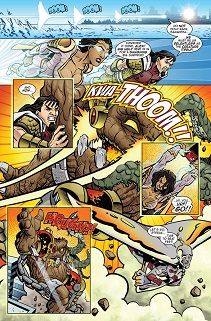 1st: How do you come up with ideas for comic book stories?

Eric: Originally, this issue was supposed to be written by myself and my former partner (and creator of FiveStar) Tony Klapper. Tony and I came up with the plot of the issue and broke it down, but then Tony left the group to pursue his own awesome projects (for which I'm VERY excited). So once he was gone, I went ahead and wrote the rest of the issue based on what we had talked about. As for exactly how I come up with ideas…honestly, sometimes these characters write themselves. I've gotten to know them so well that essentially they tell me what to do!

1st: Which other comics would you recommend besides "Power Company"?

Eric: Tony Klapper's FIVESTAR, Roy Johnson's SENTINELS, Rodney Lockett's ALL WINNERS SOCIETY, Dan Sehn's ARGO 5, Nigel Flood's GLOBALISTS, any book by the folks at GALLANT COMICS, Jay Piscopo's THORUS…the list goes on!

1st: Which character in "Power Company" would you most like to have the powers of and why?

Eric: I'd like to have Steel Wolf's powerset. It's always been my favorite. Flight, strength, invulnerability…just all the best toys. And while Steel Wolf doesn't have x-ray vision like a certain other super guy, if I had that as well one of the first things I'd do is fly to Oak Island and x-ray that whole place to see exactly what the heck is going on underground! LOL

1st: What do you think of all the people who support "Power Company"?

Eric: We're extremely humbled and flattered by the support folks have shown for our little project. With all the amazing work coming out from so many folks in the Independent Comics community, it's sometimes tough to get noticed. So the excitement and the support a new issue of THE POWER COMPANY brings is always gratifying. We love our fans, and try to do things we think they'd enjoy as our small way of saying thank you to them.


About Author