First Comics News: How did you come onboard "Malefic"?
David Miller: During a lull in work I contacted my editor at 1First comics, Alex Wald. Soon after I received a call from Ken Levin. Ken sent me a promo packet of Malefic and introduced me to Dan Schaffer's work. For which I'm very grateful.
1st: How do you come up with the ideas for how the characters will look based on their personalities and abilities?
David: Dan was thorough in his vision. He designed the look of most of the characters and conveyed his ideas clearly in the script. One of the benefits of working with a Writer/Artist I guess. It freed me to think about composition and page arrangements. It was cool to design bit part characters though.
1st: What characteristics do you try to most bring out in Doctor Freust?
David: It was fun playing up her learned Doctor demeanor, unimpressed against the manic characters of The Pit. Along the way, a spark of that mania threatens to burn her down by the end of the book. I tried to convey her struggle against.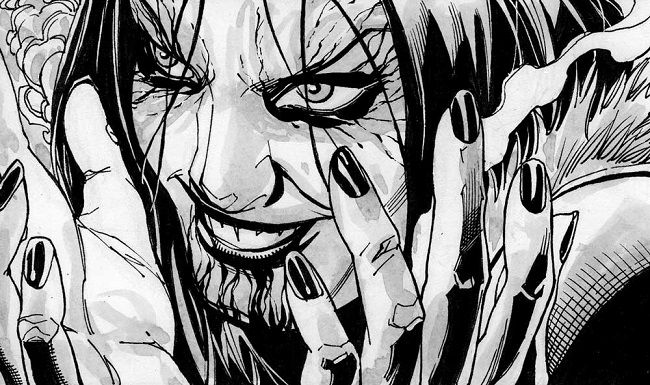 1st: What kind of patients does Doctor Freust have can you give us a few examples?
David: Crazy! Some are too terrible to mention! The Doll is a great character. Roughly a plastic mannequin, The Doll is a projection tool to allow patients to act out traumatic life events or urges in a safe atmosphere under observation. It's revealed that those projections never leave the doll. In silent consciousness, it holds all the horrible residual projections throughout a history of patients.
1st: Do you try to make "Malefic" look like a horror movie?
David: At points yes, for sure. I tried to recognize when Dan wanted a more cinematic approach so a scene, but then he'll turn and write something completely comic book style. I'm influenced by all sorts of entertainment. The choice for a black and white book came after I turned in ink washed pages. We went without a colorist because the gray tones played well against the dingy Asylum backdrop.
1st: When drawing the Pit what did you hope to achieve?
David: The sections of The Pit were written in wings and there are signs scattered on the walls for location clues. Mostly it is a cavernous labyrinthine place to get lost in. It's out of touch with today's world, so modern gadgetry and phones don't work there. The saying,"If a tree falls in the forest and no one is around to hear it, does it make a sound?" comes to mind.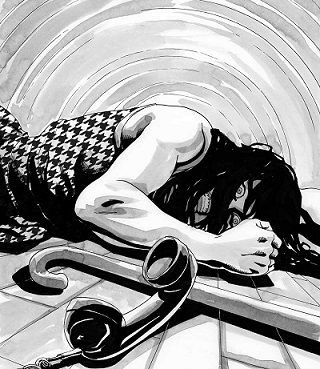 1st: Which character did you most enjoy drawing in "Malefic"?
David: Doctor Freust! I enjoyed her journey and how she's introduced to the other characters. Her career is crippled, she's crippled physically, tested mentally and sent to a place she doesn't want to be. At the start, she tells her name to one of the guys at the Pit and He says something like, "Freust like Moist?" Up until I read that part I was having trouble pronouncing her name myself. I got a kick out of it.
1st: When did you start drawing and when were you first published?
David: I can't remember a time when I didn't draw or sketch. I was first published in 2006 in an anthology called Nightmare World. It was an 8-page story about a caveman, his dog, and scary giant spiders. My first full-length work was called Pariah created by Orlando Harding.
1st: How do you improve your artistic skills?
David: With a scourge! Joking. I love to understand movies that engage me. I saw Sicario the last time my father was over for a visit. It prompted me to search-up its cinematography. I looked up the Director, Writer, and Director of Photography to better understand why I was so enthralled with the movie. Recognizing when I'm engaged in something so extremely is a great opportunity to acknowledge why and apply the takeaway to my own work.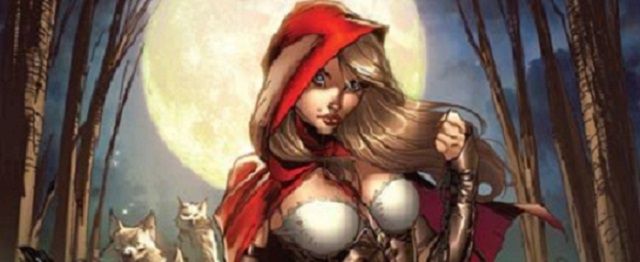 1st: You worked on "Grimm Fairy Tales: Myths and Legends" how did that feel?
David: Zenescope was reaching a strong height of popularity at the time. They achieved issue 50 of their flagship title Grimm Fairy Tales which twists babes, horror and fairy tales. I did 4 pages in issue 50 and half of 51 before I was offered the first story arc of Grimm Myth and Legends. In the same phone call, I was offered Tyler Kirkham's Screwed. I was nervous, optimistic and happy to finally see the chance to be published on a regular base. Exposure! Most of my work before that is unpublished. It was also a time of much needed artistic growth and mixing with proven talents.
1st: Which comic book that you have not worked on would you most like to?
David: I used to think I wanted to be on a long continuing series. This could be a good time to say Batman but DC is saturated with great artists, seems it'll be awhile. So I'd say I'd like to be working on exactly what I'm working on now. Another self-contained volume with Dan. I look to film talents like Roger Deakins, considering the array subjects and genres he's done. I'd like that kind of array for myself in comics.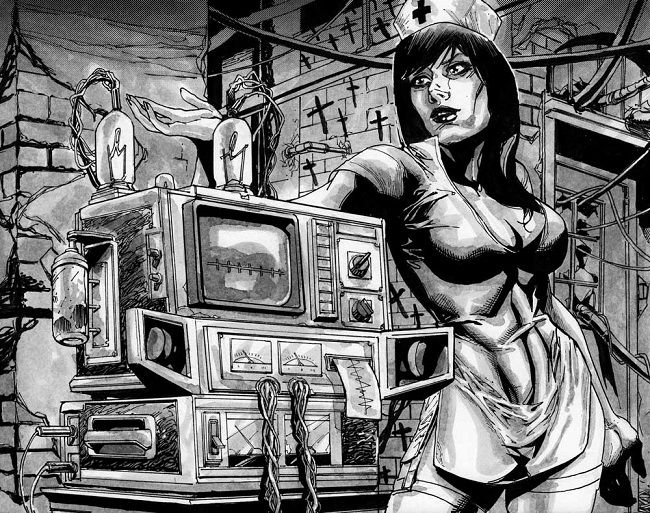 1st: Do you have anything else your working on now or in the near future?
David: I'm happily working on another title with Dan Schaffer.
1st: If you were locked up in the Pit what power or ability would you have and why?
David: Aneurysms! Aneurysms to those who cross me! No. Instead, I'll say the power to induce deep contentment and good health to those around me. The world has enough misery to contend with without me adding to it.
1st: Any words for the fans who love your art?
David: For those of you joining me, those I work with and support me, Thank you. I hope you continue to enjoy our time together.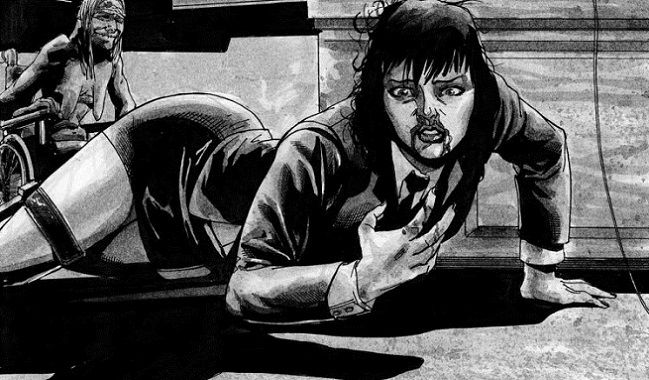 About Author