OMINOUS PRESS 25TH ANNIVERSARY INDIEGOGO
(Click this link above)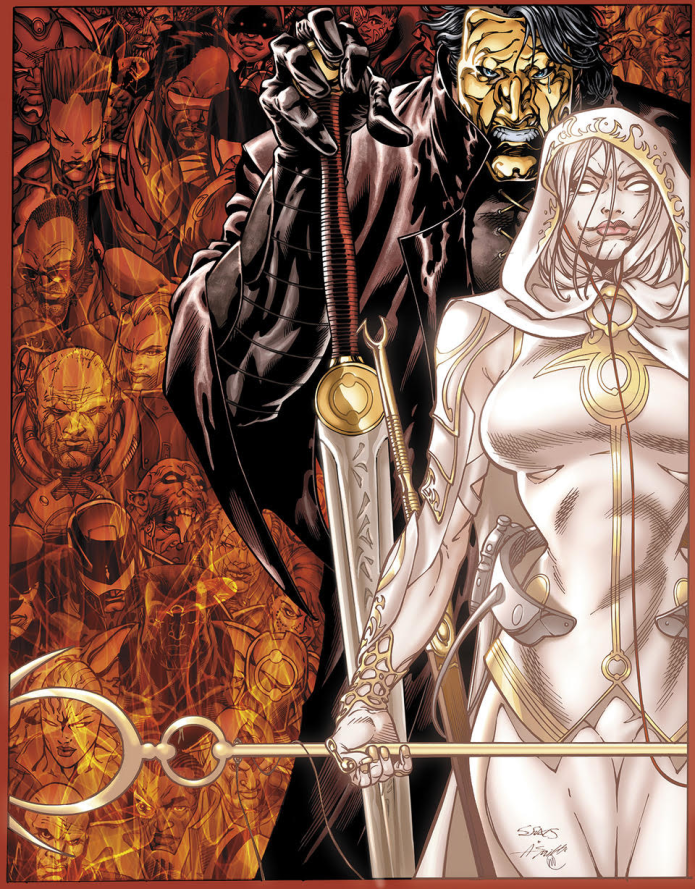 TONAWANDA, NY (Sept. 24, 2020): Ominous Press is celebrating its 25th anniversary with a huge new book collecting its best art from the last quarter century. The Art of Ominous Press is a huge hardcover art book of more than 330 pages, gathering the best art from the history Ominous Press.
The Art of Ominous Press is a massive hardcover collection, highlighting all the awesome art that Ominous Press has generated during the last 25 years. Starting with founder and creator Bart Sears, Ominous Press has partnered with an amazing array of artistic talent over the years. Now, for the first time, the best of that art is collected in a huge oversize volume, available via an Indiegogo campaign that is live now.
The Ominous Universe is a place of mighty heroes, insidious villains, and incredible adventure. Thanks to powerful stories like It Begins…, Dread Gods, Giantkillers, and Demi-God, Ominous Press made its made its mark on the comic industry with larger-than-life tales.
"I'm so proud we're able to gather all of this awesome art from the last 25 years. What started out as characters and stories in my daydreams has been made real by an array of artists I can hardly imagine, including legends like Neal Adams and Jim Starlin," Bart Sears said.
The Art of Ominous Press features stunning pieces from the earliest days of the Ominous, right up through the present. The artistic roster includes Bart Sears, Andy Smith, Tom Raney, Neal Adams, Jim Starlin, Kenneth Rocafort, Kelley Jones, Kevin Maguire, Cully Hamner, Aaron Lopresti, Mike McKone, Darryl Banks, Bob Layton, and many, many more. The volume will also include numerous character pieces that have never been published, created by a wide range of classic and contemporary artists, including Jim Starlin, Jerry Ordway, Rick Leonardi, Aaron Lopresti, Rachael Stott, Joe Phillips, Jeff Johnson, and many more.
The Art of Ominous Press is only available through the Indiegogo campaign, which includes an array of Ominous Press publications at great savings. Other rewards include hardcovers, limited-edition variant covers, prints, T-shirts, and hoodies.
The Indiegogo campaign is live now!
OMINOUS PRESS 25TH ANNIVERSARY INDIEGOGO
(Click this link above)
About Author