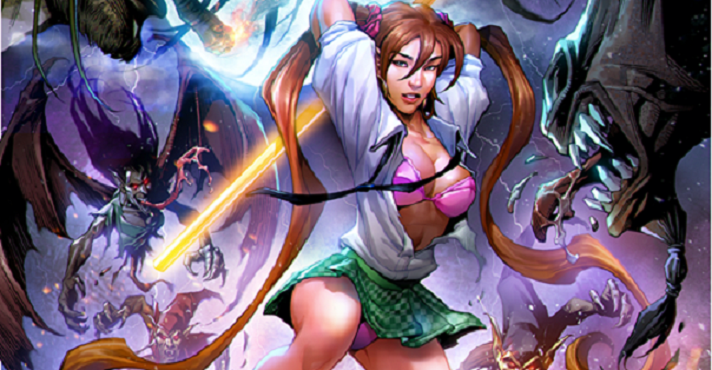 First Comics News: What made you decide it was time to publish another Banzai Girl graphic novel?

Jinky Coronado: It been four years since I Kickstarted BANZAI GIRL Volume 1: By Dreams Betrayed. During that time, I was working little by little on what might be the last Banzai GIrl story, picking up seven years after the last adventures, in which Jasmine was born and Banzai Girl fought the Tikbalang. I finally finished the art, Katrina completed the coloring, and I sent it off to the letterer. So now is the right time to do BANZAI GIRL Volume 2: Fifty Shades of Prey.
1st: What have you been up to since the last printed Banzai Girl comic?

Jinky: The last regular comic book was over a decade ago! My daughter Jasmine was a baby when I did those issues. And four years since the Volume 1 graphic novel. During those four years, I drew a whole bunch of issues of Pandora's Blogs — for which only the preview story's been in print — and an issue of the Markiplier comic book. I did some covers for Zenescope and some art for Sherrilyn Kenyon's Dark-Hunters. And I finished a long run of issues of the sexy supernatural series EXPOSURE, which was also collected into a graphic novel. What's more, I produced a sexy art book for SQ Publishing, called Banzai Girl: Stripped Down!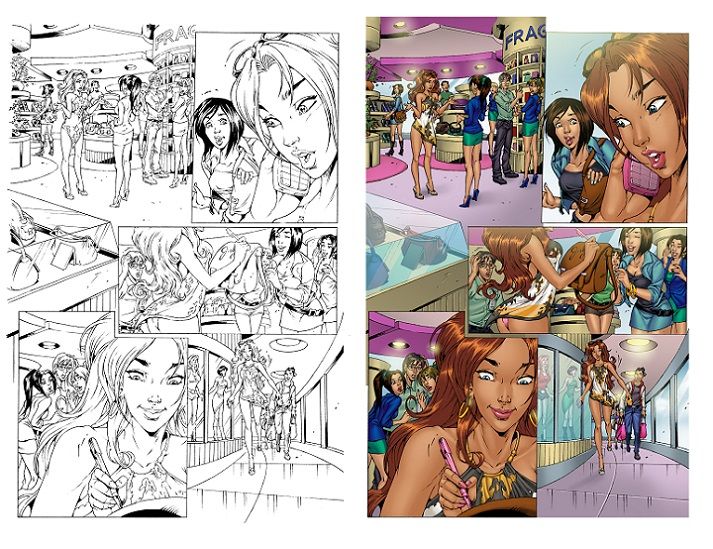 1st: Banzai Girl includes lots of beautiful sexy art but the star character is more than that, how so?

Jinky: Well, it's not often that a comic book is not only based on a real person, the comic is actually written and drawn by that person! When I started it, I was literally a schoolgirl in the Philippines writing about being a schoolgirl with my family and friends. As I worked on it more, I blended in so much about Filipino culture and monster myths and legends, to the point where it was unlike any other comic book being published in the USA. What's more, as the characters became recording stars in the comic, Michelle and I were recording stars of our own, with a music CD released in the Philippines and here in the U.S. I guess that was my nod to The Archies, but we look better in skirts than Archie and Jughead. (Laughs.)
Speaking of which, I just signed a contract with Archie, so if everything goes well, maybe next year you'll see me on an Archie book!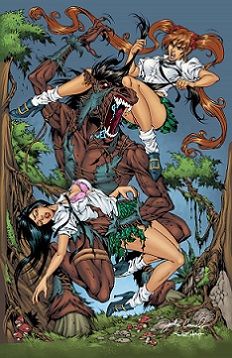 1st: What kind of threats will Banzai Girl face in Vol. 2?
Jinky: I dive way more into Filipino culture in Volume 2, so of course you'll see creatures — the Kapre` and the Duwende, to start with. An alien robot last seen in Volume 1 rams up and causes all sorts of havoc. But perhaps the biggest threat is the daughter of a scientist killed by that robot, who blames Jinky's family and is out for revenge. It's personal, and quite scary in its way.
1st: What extras will we see in this graphic novel and in the Kickstarter?
Jinky: My gosh…lots and lots of sexy pinups and spot art you've not seen before. A variant cover with me actually back in the Banzai Girl schoolgirl uniform being chased by a rampaging robot. It's worse than final exams! (Laughs.) If we hit a the first Stretch Goal, I'll add story pages and include the KATIE'S WORLD strip that threads its way through the entire storyline.
I do want to say this: My Kickstarter offers multiple Reward Levels where fans can get original art from the books I've done — covers, posters, pin-ups, interior pages, and even new custom commissions. I don't think comics fans realize that many comics today are drawn on tablets or Wacom Cintiqs, so no original art exists. Before too long, we may have a situation where almost no new original comics art exists because everything's digital. I still draw on art board with a pencil, so I am making all that art available in my Kickstarters.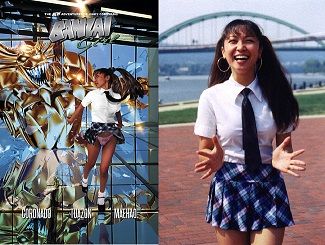 1st: What is the url of "Banzai Girl Vol. 2"?
Jinky: My Kickstarter can be found at… Kickstarter.com
1st: What do Larry Tuazon and Katrina Mae Hao contribute to "Banzai Girl Vol. 2"?
Jinky: The heart, mind, and soul! (Laughs) Katrina Mae Hao is my colorist — she's been doing amazing color on my work for years and years. And Larry Tuazon, omigod, Larry Tuazon keeps me real, doing finished art over my roughs in a way that's practically seamless. His finesse with a pencil is better than most people's brushwork!
1st: How are you the real life Banzai Girl, how do you two compare?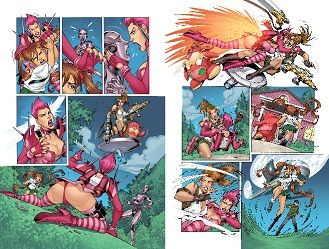 Jinky: Well, her history and mine are nearly identical into our teen years, but I never had to face monsters or alien invasions. She toured much of the world singing music; I toured much of the world as a comics artist and convention guest and helping to teach comics seminars. She owns a store in the comic; I owned a mall kiosk store. My biggest adventure was moving to the USA to have al life here — and English is my THIRD language, after Tagalog and Hiligaynon.
1st: What super powers and/or abilities does Banzai Girl have?
Jinky: The ability to flash her thong from any angle while retaining her composure! (Laughs.) My series really is fun sexy without being rude or going too far. With lots of action.
1st: What is your home life like?
Jinky: I'm married with a teen daughter and a puppy! I work from home, still drawing. I have another business now: I do makeup professionally! I am on call with The Filipino Channel to do makeup for celebrities that come into town, plus I do makeup and hair for weddings and parties and proms and other special events. I stay as busy as I want to be. I don't do as many conventions anymore, unless a convention or client covers my trip.
1st: What have you done recently that embodies the spirit of Banzai Girl?
Jinky: Helping out friends that are in a really tough situation right now. But that's not fun to read about so how about: I'm doing my taxes this month! If prepping for battle with the IRS isn't super-scary, what is?
1st: What would you like to say to all the Kickstarter backers and supporters of Banzai Girl?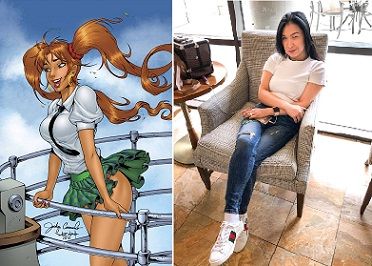 Jinky: To all my supporters and fans: I apologize for taking so long to get back to creating an all-new Banzai Girl adventure, but I really think you'll love it!To Kickstarter backers: If you missed the first volume of Banzai Girl, don't worry, I make those available in this Kickstarter along with Volume 2. I also have quite a few of my other works available, too — Exposure, Stripped Down!, even Pandora's Blogs. And if you want a custom commission of any character, I can do that for you. If you like sexy comics — if you're a fan of the sexiness of work from Jamie Tyndall or J. Scott Campbell on John Royle, I think you'll love what I'm doing here. As I say: If you can't see the thong, you're doing it wrong!

I love my fans and I'm so happy Banzai Girl is back!
About Author