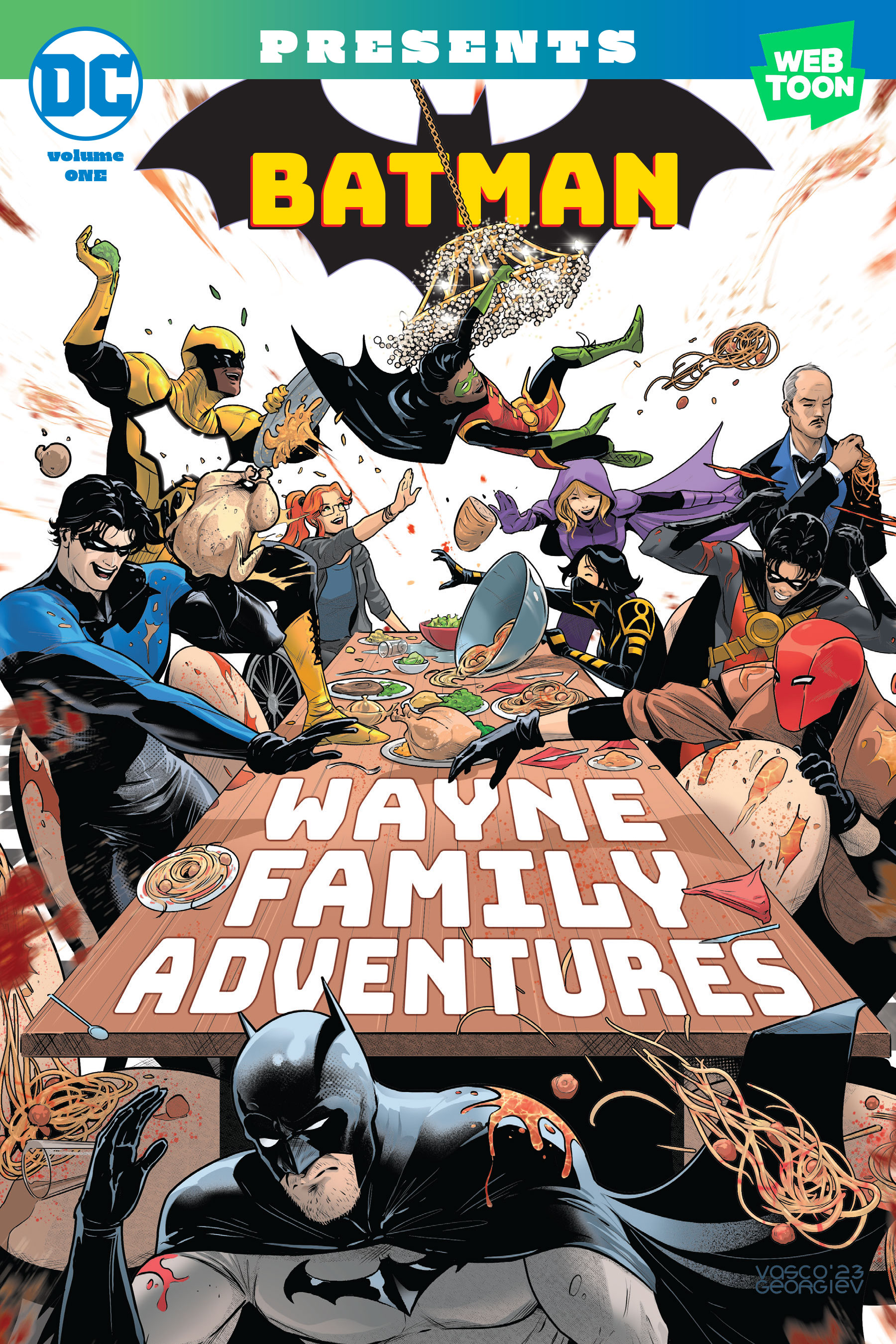 "Being a father can't be harder than being Batman, right?"
Cover to Batman: Wayne Family Adventures Vol. 1 
DC today revealed the expansion of its creative partnership with WEBTOON,the world's largest digital comics platform, into the global book market beginning in fall 2023. Batman: Wayne Family Adventures Vol. 1 and Vixen: NYC Vol. 1 will go to print and be available wherever books are sold in August, and Zatanna & The Ripper Vol. 1 will hit shelves in October, introducing a new audience of comics fans to the DC Universe and DC's iconic characters.
"Fans can't get enough of our DC and WEBTOON content," said Anne DePies, DC's senior vice president and general manager, "and expanding DC's creative partnership with WEBTOON into print with books like Batman: Wayne Family Adventures reflects this demand. Each page of these new volumes is meticulously reproduced to be read seamlessly in book narrative format. DC's continuing partnership with WEBTOON combines legendary franchises with new technologies and global fandoms, and we can't wait to get these new print editions into your hands."
"We're immensely proud of the stories we've been able to tell with DC and thrilled to bring these narratives to bookshelves," said David Lee, VP of content at WEBTOON. "The creative teams behind these series have given fans fresh takes on legendary DC characters, and we're excited to give WEBTOON and DC fans a new way to enjoy these titles."
The smash-hit collaboration between DC and WEBTOON began with Batman: Wayne Family Adventures in September 2021. The Eisner Award-nominated webcomic series, exploring Batman's adventures as a father to a dynamic group of adopted, fostered, and biological superhero children, is currently in its second season, with new digital episodes rolling out weekly. Vixen: NYC launched in May 2022 to tell the story of college freshman Mari Jiwe discovering she can channel the power of the animal kingdom, and a time-displaced Zatanna story launched soon afterward in Zatanna & the Ripper, a magical serial-killer murder mystery set in London in the 1800s.
Batman: Wayne Family Adventures Vol. 1 (9781779523273, $14.99 US) publishes on August 1 and collects episodes 1 through 25; Vixen: NYC Vol. 1 (9781779523280, $14.99 US) publishes on August 15 and collects episodes 1 through 9; and Zatanna & the Ripper Vol. 1 (9781779523389, $14.99 US) publishes on October 3 and collects episodes 1 through 11.
Cover to Vixen NYC Vol. 1
DC, part of Warner Bros. Discovery, creates iconic characters and enduring stories and is one of the world's largest publishers of comics and graphic novels. Its creative work entertains audiences of every generation around the world with DC's stories and characters integrated across Warner Bros. Discovery's film, television, animation, consumer products, home entertainment, games, and themed experiences divisions and on the DC Universe Infinite digital comics subscription service. Learn more at DC.com.
WEBTOON is the world's largest digital comics platform, home to some of the biggest artists, IP, and fandoms in comics. As the global leader and pioneer of the mobile webcomic format, WEBTOON has revolutionized the comics industry for comics fans and creators. Today, a diverse new generation of international comics artists have found a home on WEBTOON, where the company's storytelling technology allows anyone to become a creator and build a global audience for their stories.
With a massive catalog of incredible digital comics from rising stars on the WEBTOON CANVAS platform and a growing roster of superstar WEBTOON Originals creators, there's something for every type of comics fan on WEBTOON. With 85.6 million monthly active users and WEBTOON adaptations on Netflix, Crunchyroll, and other screens around the world, WEBTOON's passionate fandoms are the new face of pop culture. The company has worked with DC Comics, Marvel Entertainment, HYBE, and many more of the world's biggest entertainment brands.
The WEBTOON app is free to download on Android and iOS devices.
About Author