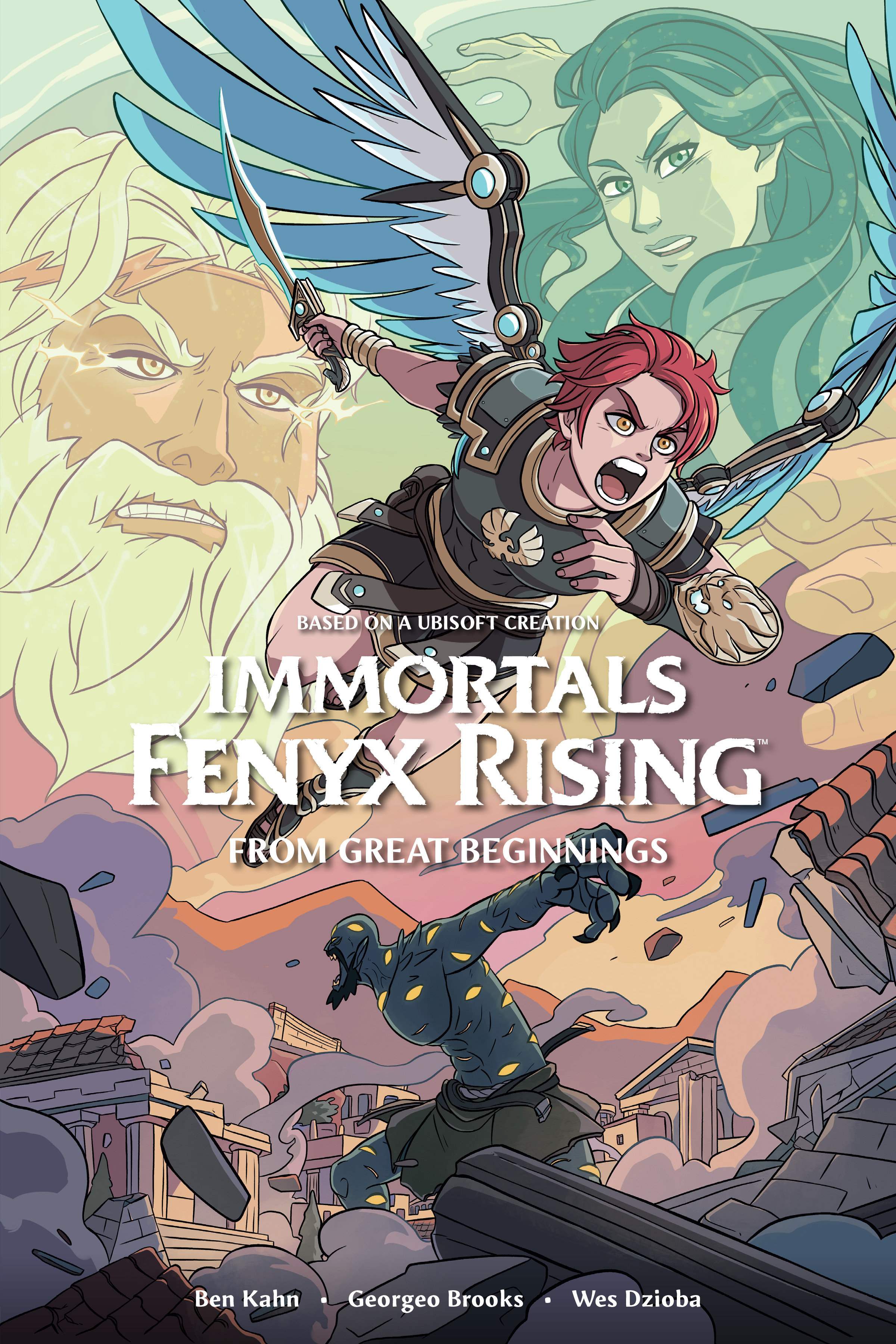 MILWAUKIE, Ore., (December 9, 2021)—Immortals Fenyx Rising: From Great Beginnings is a new graphic novel based on Ubisoft's award-winning video game, Immortals Fenyx Rising. To celebrate the book's launch in December 2021, Dark Horse and Ubisoft are teaming up to offer fans an exciting livestream opportunity: dive into the world of Immortals Fenyx Rising with creative team members from both the game and the comics!
On Friday, December 10 at 1 pm PST, fans are invited to tune in for a livestreamed panel discussion on the Dark Horse Comics Twitch channel (twitch.tv/darkhorsecomics). Joining us to explore the graphic novel and game will be special guests Jeffrey Yohalem, Lead Writer and Narrative Director on Immortals Fenyx Rising at Ubisoft, Thierry Dansereau, Art Director on Immortals Fenyx Rising at Ubisoft, and Ben Kahn, writer of the graphic novel Immortals Fenyx Rising: From Great Beginnings. Fans can ask questions in the live stream chat about the comics, and join in the discussion about creating an immersive world that spans a video game, comics, and more. Get a look inside the comic book, and hear from some of the team who helped bring these stories to colorful life on the page and screen!
The stream will be available to watch on demand following the live broadcast on Dark Horse Comics Twitch and YouTube channels.
Immortals Fenyx Rising: From Great Beginnings is now available from comic shops, and will be available on December 14, 2021 from bookstores and digital services. Recommended for ages 10 and up, this is a fun original story for younger readers that expands on the Ubisoft video game. Written by Kahn, with art by Georgeo Brooks and colors by Wes Dzioba, this Greek mythology-inspired tale continues directly from the world of the game. Gods must face their past and unite for the legacy of the future! When earthquakes hit the hometown of Fenyx, she joins with her mother and Zeus to be saviors together. Dangerous creatures emerge, old flames reignite, and history is once again in the making!
Immortals Fenyx Rising: From Great Beginnings is the latest book from the partnership between Dark Horse and Ubisoft. The two companies continue to bring fans a growing line of comics, graphic novels, and art books based on the rich worlds of Ubisoft games, from Assassin's Creed® Valhalla to Far Cry® 6 to Immortals Fenyx RisingTM and more. See more details about currently available books here, as well as those coming soon–including The Art of Immortals Fenyx Rising, available now wherever comics and books are sold!