Chuck Finds Lost Jack Kirby Manuscript
Three years ago, I purchased five pallets filled with the personal archives of a highly-respected comics executive (and longtime comics fan) who was retiring to a new life in Europe. I paid a small fortune for his lifetime collection, but our initial investment in his remarkably eclectic assemblage was soon recovered, as he passed on to us a stunning array of rare prototypes and limited edition toys, as well as innumerable low print run comic book variant editions. His material was so intensely cool that we actually ran out of shelf space in our showcases in Jason St. for displaying any more of his treasures, so after unpacking about half of his 300+ boxes, we just stopped.
With my good health and vigor having finally returned, I decided last week that I would take on the challenge of unpacking and sorting the rest of his two pallets stacked with sealed boxes, and at the very least shelve his rarest items in the back of the Mega-Store. My effort has been excruciatingly slow, however, as every box that I have opened is filled with staggering mementos of a life brilliantly lived, with personally autographed items from innumerable industry giants (such as Robert Heinlein and Olivia De Berardinis) in every carton.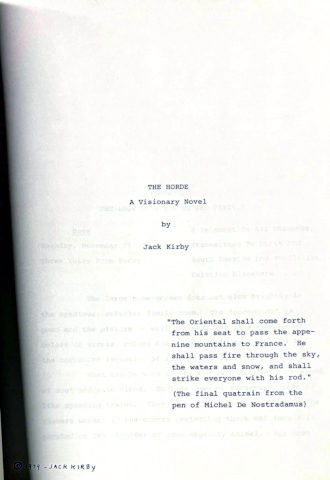 "The Horde," Jack Kirby's legendary 248-page prose novel that he wrote in 1974/75
The single item that really blew my mind, however, was a hand-bound manuscript of "The Horde," Jack Kirby's legendary 248-page prose novel that he wrote in 1974/75, and that was edited into this version in 1979. There is a long article about the evolution of this novel (and why it was never published) online at the Jack Kirby Collector, but no mention was made of any copies of the manuscript surviving. Tucked in the bottom of a nondescript box that I opened last night, however, was a complete hand-bound manuscript (with editor's notes) of this "lost" prose novel by arguably the greatest comics artist of all time.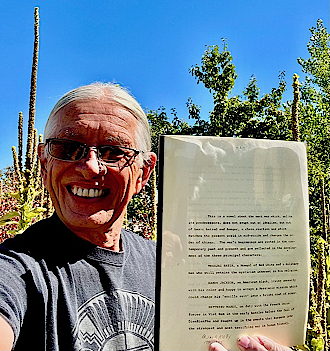 "The Horde," Jack Kirby's legendary 248-page prose novel that he wrote in 1974/75

To make this story even more fantastic, the previous owner contacted me from Europe this morning to let me know that his copy of this incredibly rare manuscript had been a personal gift to him (after Jack's passing) directly from Jack's widow, Roz Kirby. She had given it to him still hoping that it could someday be published. Maybe now, it will. If they do not already have it, I will gladly make the entirety of Jack's novel available to the Jack Kirby estate. They own the copyright, and must make the decision as to whether to turn this novel over to a publisher. Jack and Roz were dear and personal friends of mine, so forty years later, this is the very least that I can do to honor their unceasing kindness to me. https://www.firstcomicsnews.com/chuck-finds-lost-jack-kirby-manuscript/https://www.firstcomicsnews.com/wp-content/uploads/2017/01/Kirby-logo-600x257.pnghttps://www.firstcomicsnews.com/wp-content/uploads/2017/01/Kirby-logo-150x64.pngFirst Comics NewsNews

Three years ago, I purchased five pallets filled with the personal archives of a highly-respected comics executive (and longtime comics fan) who was retiring to a new life in Europe. I paid a small fortune for his lifetime collection, but our initial investment in his remarkably eclectic assemblage was...

news@firstcomicsnews.comAdministratorYour First Place For Comics News since October 18, 1998First Comics News