Read the Nightmarish History of Films that Never Were in 'Untold Horror'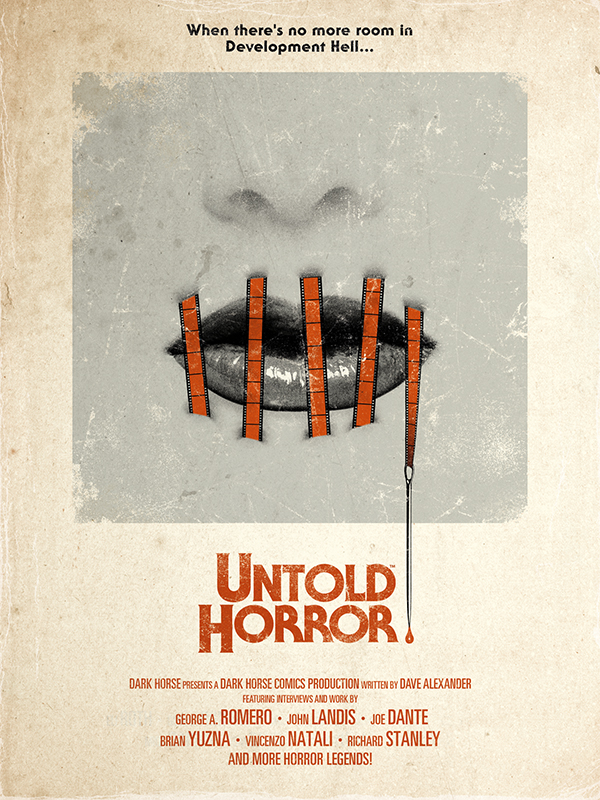 MILWAUKIE, Ore., (February 17, 2021)—Some of the most mind-bending, jaw-dropping and heart-stopping tales in the history of genre film are the ones that never made it to the screen… Dark Horse Books has a story to tell—or rather, untold stories, insightful interviews, and behind-the-scenes looks from horror legends George A. Romero, John Landis, Joe Dante, Larry Cohen, Richard Stanley, Vincenzo Natali and more, conducted by former editor-in-chief of Rue Morgue magazine, Dave Alexander, about the scariest movies never made. Crack the spine, if you dare, and discover the Untold Horror!   
Take a behind-the-scenes look into development hell to find the most incredible horror movies that never were, from unmade Re-Animator sequels to a couple H.R. Giger passion projects, to alternate takes on legendary franchises such as Frankenstein, Dracula and Jaws!
Features art, scripts, and other eye-popping production material from unmade films that still might make you scream—with insights from influential directors, screenwriters, and producers with decades of experience.
Untold Horror hardcover will be in comic shops on July 28, 2021 and in book stores on August 10, 2021. It is available for pre-order on Amazon, Barnes & Noble, and at your local comic shop and bookstore. Untold Horror will retail for $39.99.
About Author