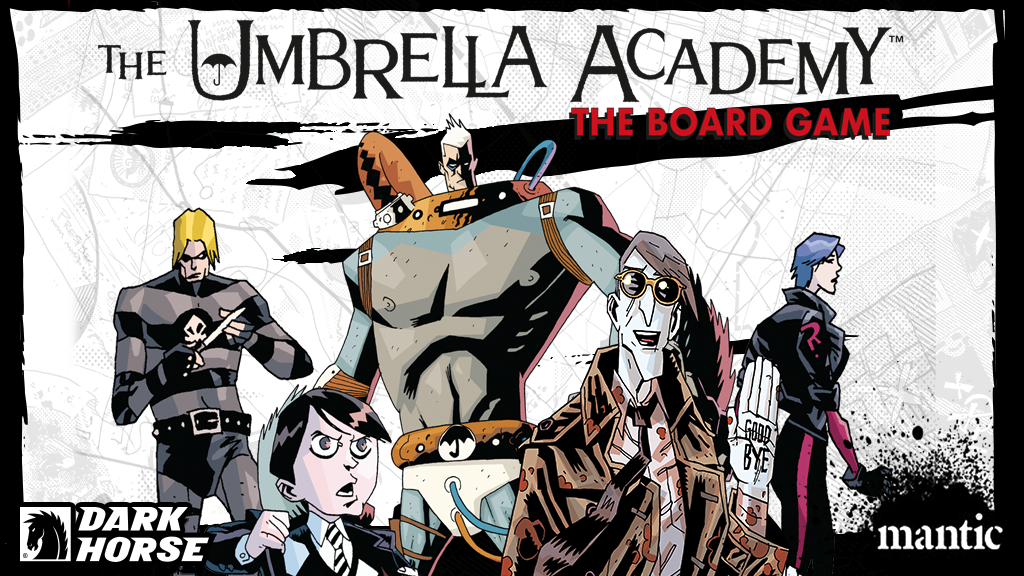 Can you overcome supervillains and family feuds to save the world?
MILWAUKIE, Ore., (June 15, 2022)— Mantic Games, in partnership with Dark Horse Comics, is delighted to announce it's bringing The Umbrella Academy to the tabletop in a brand-new board game, which is now available to support on crowd funding platform, Gamefound. Inspired by the world famous graphic novels by Gerard Way and Gabriel Bá, Umbrella Academy: The Board Game tasks you with one simple thing… saving the world!
In this co-operative game for 1-5 players, you become a member of the Umbrella Academy. Choose from Spaceboy, Rumor, Kraken, Séance and Number Five, then use their special abilities to defeat hazards and super villains such as Hazel and Cha Cha, or The White Violin. Each hero and villain is brought to life with fantastically detailed, pre-assembled plastic miniatures that are great for board gamers, or Umbrella Academy fans that want to collect their favorite characters.
Mantic Games, publisher of the critically acclaimed Hellboy: The Board Game, has worked with top games designers Alessio Cavatore and Jack Caesar at River Horse Games – creators of best-selling board games like Pacific Rim: Extinction and Labyrinth: The Adventure Game – to accurately capture the co-operative, yet often chaotic, nature of the graphic novels. The result is an experience that's easy to pick-up-and-play, making it perfect for game nights with friends or family.
"The Umbrella Academy is such a great opportunity to create a fun and fast-paced board game," said Ronnie Renton, Mantic CEO. "The graphic novels provide a fantastic foundation on which to build an immersive, co-operative experience with plenty of twists and turns to ensure that no two games ever play the same."
The Gamefound campaign for Umbrella Academy: The Board Game is live now and can be backed here: https://gamefound.com/projects/mantic-games/umbrella-academy-the-board-game