THE HEAT IS ON IN THE 'STRANGER THINGS SUMMER SPECIAL'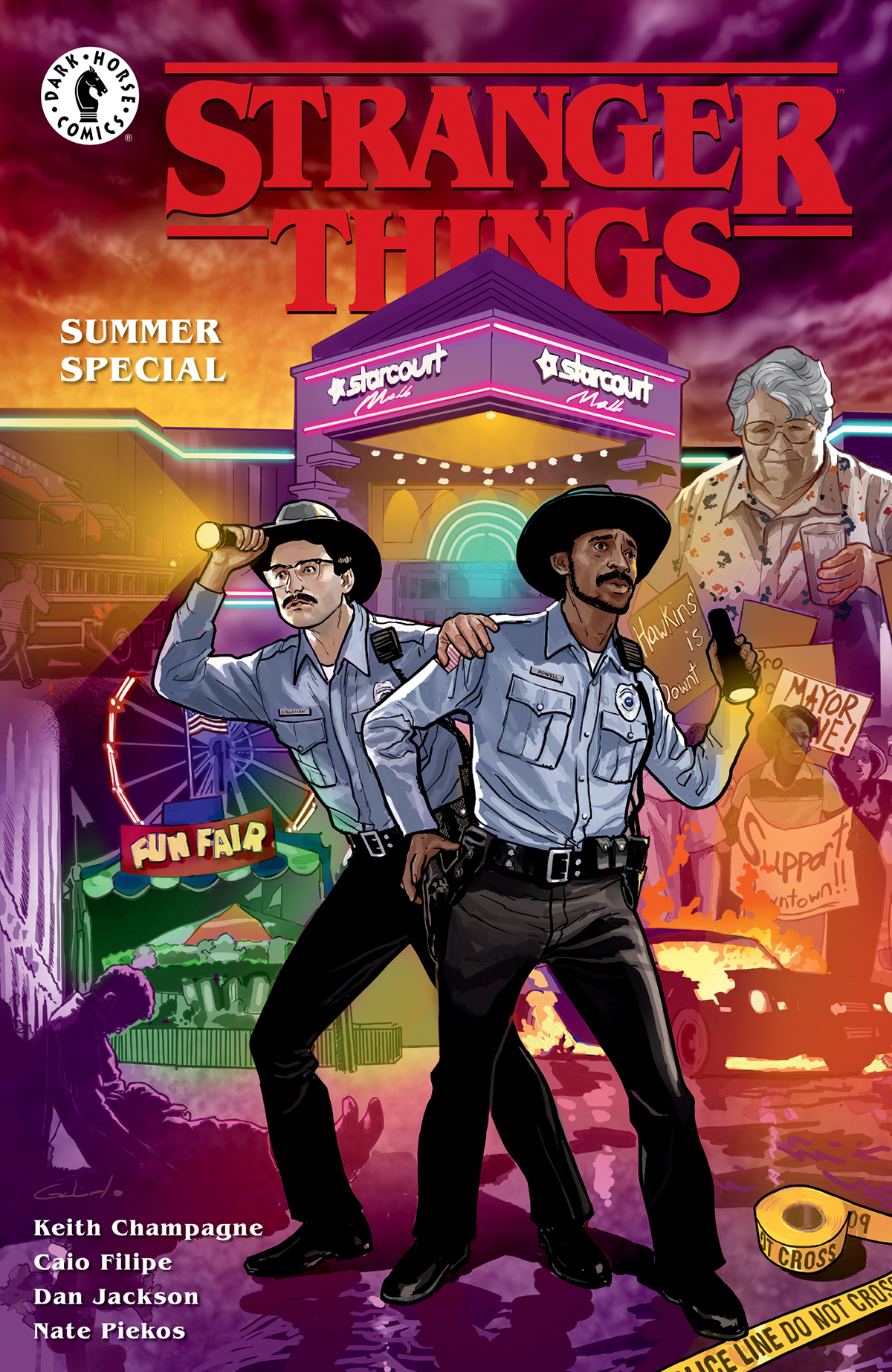 Buddy Cops in Hawkins, Indiana Patrol the Streets as Things Get…Stranger
MILWAUKIE, Ore., (May 2, 2022)— Dark Horse Comics is thrilled to present the Stranger Things Summer Special One-Shot! Written by Keith Champagne (Stranger Things: Science Camp, Green Lantern), illustrated by Caio Filipe, colored by Dan Jackson (The True Lives of the Fabulous Killjoys, Hellboy: Weird Tales), and lettered by Nate Piekos (Black Hammer: Reborn, The Umbrella Academy: Hotel Oblivion), the Stranger Things Summer Special arrives just in time for the summer premiere of Stranger Things 4, and features covers by Diego Galindo and Heather Vaughn! Volume I of Stranger Things 4 premieres on Netflix May 27, 2022 followed by Volume II July 1, 2022.
Officers Powell and Callahan patrol the "mean" streets of Hawkins Indiana with the enthusiasm of two hefty dachshunds pretending to be bloodhounds. Typically, they don't have to chase down more than the occasional petty theft and teenagers smoking reefer but lately the town has been getting weirder, and while they might not get to the bottom of it, they just might be lucky enough to survive it.
Stranger Things Summer Special One-Shot will be in comic shops July 6, 2022. It is available for pre-order at your local comic shop.
Praise for Stranger Things: Kamchatka:
"Right out of the gate, Kamchatka has poised itself as being a captivating corner of the franchise that could both be its own narrative while also making the events of the TV show all the more enriching."–Comicbook.com
"I'm invested enough in Kamchatka to go the full distance as it is a nice follow-on from the last mini-series…"–SciFiPulse
"Writer Michael Moreci does a great job creating an exciting story in which the reader quickly becomes invested. No, it's not the Stranger Things we're used to – or likely why we bought the book in the first place. But it sits within the greater universe and is no less compelling."–Comicon.com
About Author