Meet the Flaming Carrot: Kinda Like James Bond, But Only if He Had a Carrot for a Head—That Was on Fire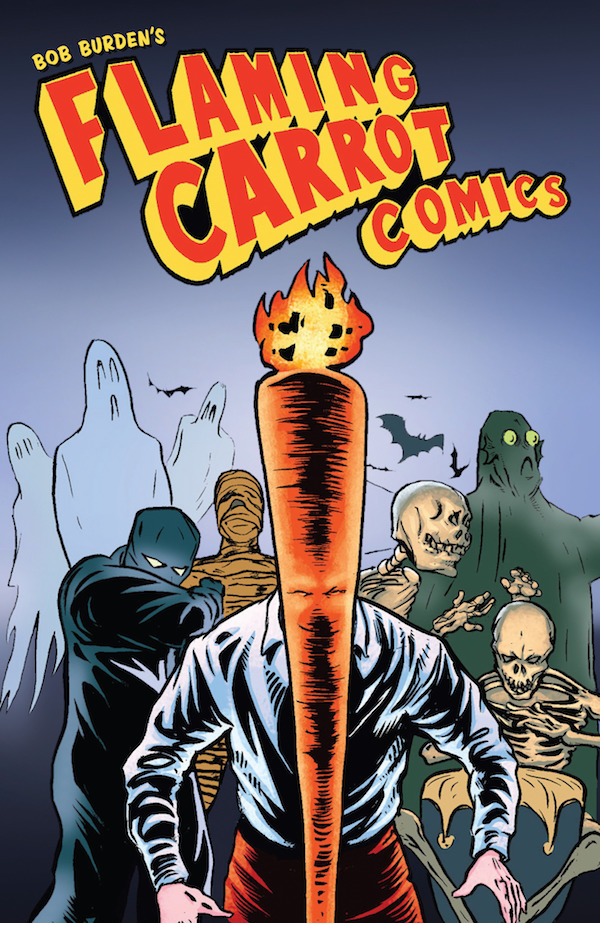 MILWAUKIE, Ore. (March 28, 2019)—Hey kids! Check out a comic book series that in recent years, many comic book readers believed to have never existed – being nothing more than a ridiculous legend or an amusing joke.
But before there ever was a Deadpool, Twin Peaks, or Lady Gaga; the Flaming Carrot's madcap madness, manic mayhem, and insolent mischief was delighting intellectuals, confounding critics, and amusing pets as one of the most iconic and seminal vanguards of the 80s' New Wave comic revolution.
Now, out of print for years, Dark Horse Comics brings you Bob Burden's 400-page Flaming Carrot Comics Omnibus, written and illustrated by Bob Burden, taking us right down the rabbit hole of creativity-gone-off-the-tracks and over the rainbow.
Propagating dreamlike surrealism, disturbing violence, sexual adventurism, bar-hopping, and a bizarre and nightmarish costume, the world's first postmodern super-man battled Road Hogs From Outer Space, went on drinking binges with Death, teamed up with the Teenage Mutant Ninja Turtles to save the "Umpire State Building", bounced around on a nuclear powered pogo stick, and ordered some of that new Brussels sprout flavored ice cream that wasn't even on the menu yet.
Now, when the industry needs it the most: The world's first surrealist super hero comic returns! The pied piper of fun! The poor man's H-Bomb! The one-man Madis Gras! The further adventures of the strangest man alive! Fresh as cracked wheat! Doctor recommended. Maximum strength formula. New hope for a nation suffocating in the swill of its own mediocrity!
Flaming Carrot Comics Omnibus goes on sale September 18, 2019, and is available for pre-order on Amazon, Barnes & Noble, and at your local comic shop. This whopping 416-page paperback volume will collect Flaming Carrot #1-2, 4-11, 25-27 and will retail for $24.99.
About Author