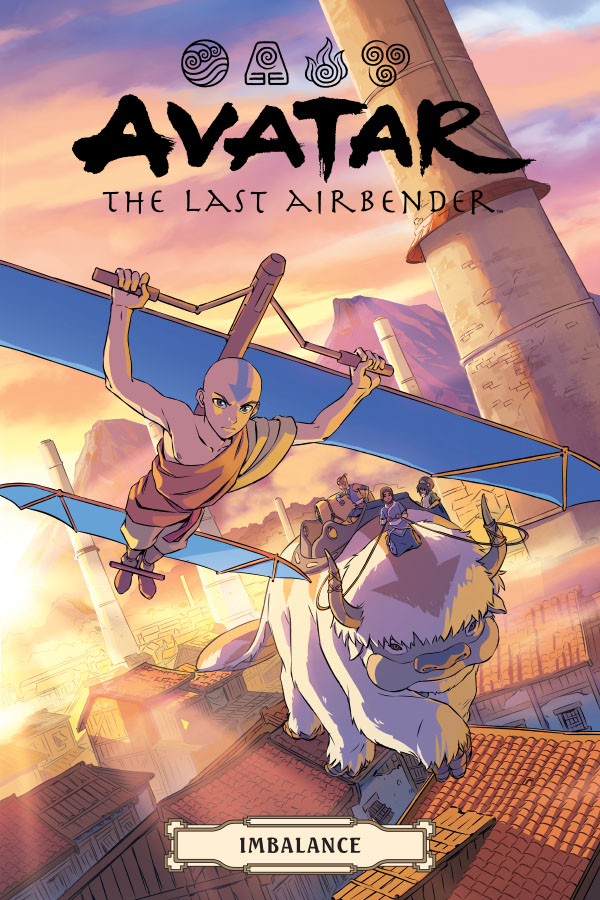 Aang faces a decision from which there is no return!
MILWAUKIE, Ore., (February 3, 2022)— Avatar Aang and friends return in Avatar: The Last Airbender—Imbalance Omnibus in partnership with Paramount Consumer Products, now available for the first time in a paperback collection. The omnibus features work by members of the award-winning team behind Suki, Alone including writer Faith Erin Hicks (Avatar: The Last Airbender––Katara and the Pirate's Silver, The Last of Us: American Dreams), illustrator Peter Wartman (Suki, Alone, Stonebreaker) and colorists Adele Matera (Avatar: The Last Airbender––Katara and the Pirate's Silver, Star Wars Adventures) and Ryan Hill (Rick and Morty, Judge Dredd) and with cover art by Wartman and Matera. The 224-page omnibus collects Imbalance Parts 1-3, which picks up the story where North and South left off.
When Aang, Katara, Sokka, and Toph return to Earthen Fire Industries—the factory owned by Toph's father—Aang is surprised when their arrival is met with a cold shoulder. As soon as the team is asked for help at a business council meeting, the reason for the slight becomes clear: a massive bender-versus-non-bender conflict has gripped the town and is threatening to turn violent. In order to heal the divide and save the town, Aang and the team will all face tough decisions about power and identity that could tear them apart.
The Avatar: The Last Airbender—Imbalance Omnibus collection will be available in bookstores August 8, 2023 and in comic shops August 9, 2023. It is available for pre-order now on Amazon, Barnes and Noble and at your local comic book shop and bookstore and will retail for $24.99.