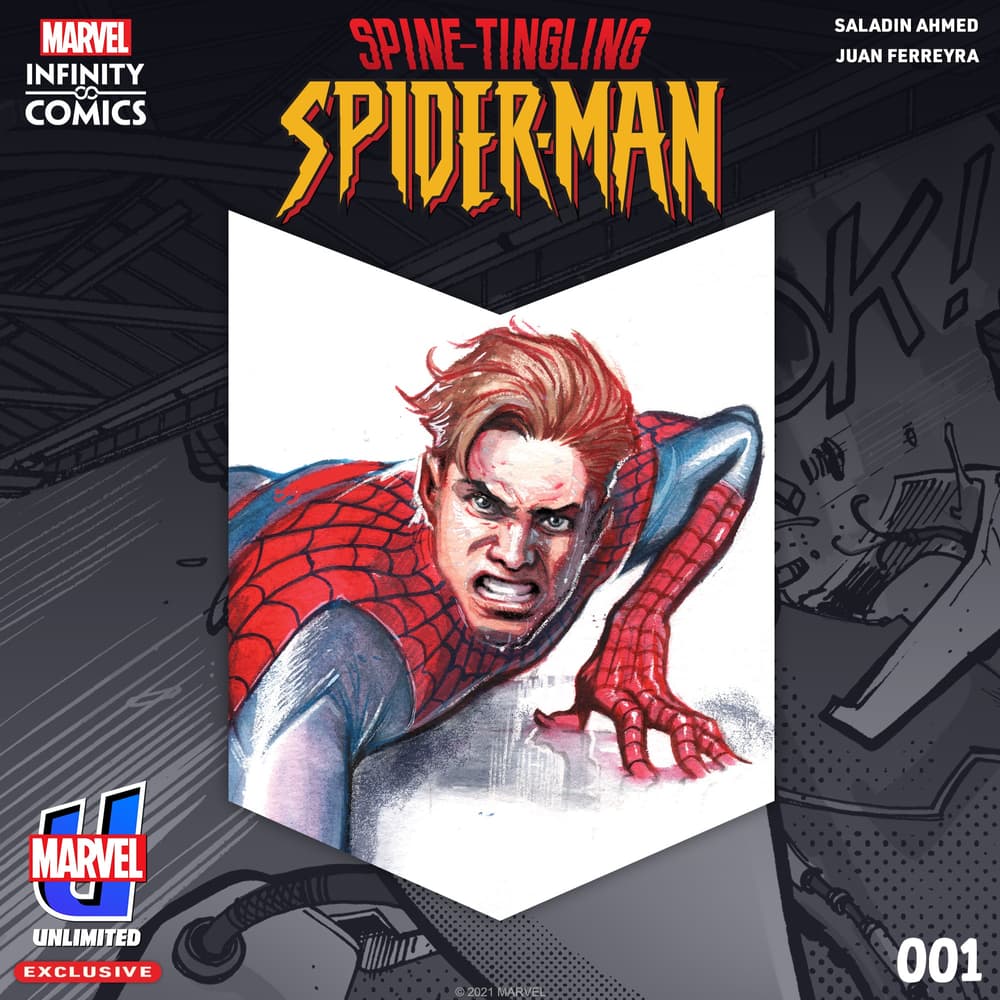 New issues of the 8-part series will be available every other Tuesday, exclusively on the app
Listen to the comic's official theme song "Close Your Eyes" HERE
Comic fans can get into the Halloween spirit starting on Tuesday, October 26 when SPINE-TINGLING SPIDER-MAN launches exclusively on Marvel Unlimited.
The all-new Infinity Comic is an 8-part series that will be available on the app every other Tuesday. SPINE-TINGLING SPIDERMAN is written by Eisner Award-winning comic writer, Saladin Ahmed (Miles Morales, Magnificent Ms. Marvel) with art by Juan Ferreyra (Spider-Man Noir, King in Black).
And before readers dive into the story, they can listen to the official theme song for the comic, "Close Your Eyes," here: https://www.marvel.com/articles/comics/listen-to-the-official-theme-song-of-spine-tingling-spider-man-infinity-comics-series
SPINE-TINGLING SPIDER-MAN
Writer: Saladin Ahmed
Artist/Colorist: Juan Ferreyra
Editor: Nick Lowe
Spider-Man is used to facing bad guys he can punch, but when a new villain gets in Spidey's head and starts to squeeze, Spider-Man is about to get very badly hurt. And when a classic villain joins the fray, things go from bad to worse.
"I've been into spooky stuff almost as long as I've been into super heroes. I've been looking to combine the two for a while, and I couldn't ask for a more iconic character to do that with than Peter Parker," said the comic's writer Saladin Ahmed.
As the story centers around Peter going back and forth between dreams and reality, artist & colorist Juan Ferreyra says, "I decided to do the real world in a traditional, super hero comic way. For this, I went with inks and digital coloring. The dream world, on the other hand, has more of a mixed media approach. I used pencils, watercolors, and gouache… so it's not as sharp and clean. It's blurrier, like the way dreams feel."
Marvel Unlimited is a one-stop destination for over 29,000 comics spanning the entire Marvel Universe. The app available on For iPhone®, iPad®, Android devices™ and web. For more information on new Marvel Unlimited comics, please visit: www.marvel.com/unlimited
About Author