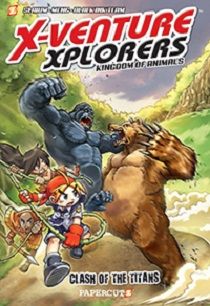 Title: X-Venture Xplorers Kingdom of Animals # 2: Clash of the Titans
Publisher Papercutz
Story: Slaium/Meng
Art: Black Ink Team
Cover Illustration: Black Ink Team
Illustrators: Seng Yao/Santa Fung/Puppeteer
Coloring: KC/Siew
Translator: Kiat
Price: $12.99 (paperback) – $16.99 (hardcover)
Rating: 4 out of 5 stars
Website: www.papercutz.com
Comments: Here it is gorilla vs bear.
"Finding Tazen" Tazen goes back home to find his family in danger. Tazen attacks a huge bear many times his size. His friends come looking for him when he does not return. The expressions on the characters while over the top at times are wonderful to see.
The art between chapters shows the bear in all its glory. It is a beautiful animal and illustrated as such here. Plus you get tons of information delivered in a couple of pages.
"Gorillas in America!" Something is going on with bears and apes and poachers are involved. We do get to witness one horrific battle here.
In between each chapter, we are informed about the animals featured in the story and the information is accompanied by gorgeous realistic art.
"The Mysterious Metal Head" The group finds a base in the middle of nowhere and more bears that are being used in some kind of experiment. The excitement continues as these kids race to find their friend.
Again beautiful art going with facts about the animals is shown between the chapters.
"Mad Dog in the House" Doctor Charles is a mad scientist. He is experimenting with and controls animals. The kids though are still looking for their friend and run into more animals here. The artwork is beautifully done, the animals all look so realistic.
The little monkeys are featured in this next fun-filled facts section. They are cute.
"Monkey Mayhem!" The apes do go into action here. Tazen's dad and Louis find themselves going head-on as Tazen watches. The art looks gorgeous as these kids push on. They never give up.
Again we get informed more about apes. There are so many different kinds and each species looks so unique.
"Ice to Meet You" The one gorilla meets bear scene is fun. They are ready to fight yet end up being friends. The polar bear shown next is a ferocious-looking beast. Even a gorilla fears a polar bear in full charge.
More apes are illustrated with information about each. They are fascinating animals.
"Scratch You Later" The brown bear is a menacing creature. Here we see the final all-out battle of gorilla vs brown bear. It is one savage fight.
We get lots of bear information next. You will be one informed reader.
"The Ultimate Sacrifice" The art here will have glued to the page. This is the final battle for it all. It is a head-on fight between bear and gorilla.
More info on the two main stars of the book is provided along with realistic drawings.
The pin-up two-page spread is stunning.
This book is so much fun to explore. Yes, you will be an explorer too, as you learn and enjoy finding out more about bears and apes and just have fun on this adventure.
About Author