On August 9, Midnight Releasing sets free Wicked Witches, the creepy, witchy new horror jaunt from The Pickering Brothers.
After being thrown out of his home by his wife for being promiscuous, Mark finds himself back at Dumpling Farm, a place of youthful memories and parties, but things aren't quite right. His old buddy Ian, who has never left the place, is possessed by a group demonic, flesh-eating Witches. Using Ian and his farm, these beautiful Witches honey trap Mark and his friends to consume their souls.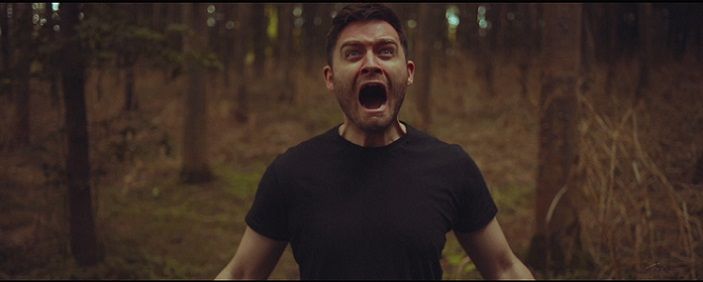 Directed by Martin J Pickering from a screenplay co-written with Mark Pickering.
Duncan Casey, Justin Marosa and Samantha Schnitzler star in an "extremely entertaining and pretty damn evil"* film, in theaters and available on digital and DVD August 9.
Trailer:

Directed by: 
Martin J Pickering
Writing Credits:
Mark Pickering … (writer)
Martin J Pickering … (writer)

Cast: 
Duncan Casey … Mark Griffith
Justin Marosa … Ian Pickering
Kitt Proudfoot … Stevie McAllan
Samantha Schnitzler … High Priestess
Jasmin Clark … Clan Sage
Produced by: 
Martin J Pickering … producer

Cinematography by:
Martin J Pickering

Run Time: 1 hr, 18 min
Rating:  2 out of 5 stars
Website: www.thewitchesofdumplingfarm.com/ , www.facebook.com/witchesofdumplingfarm/
Comments: Mark goes back to his hometown after he screwed up his marriage. His return is anything but peaceful.
A blonde woman is watching Mark. Her face is totally expressionless. Mark overreacts to seeing his old friend kneeling. Does he ever overreact with his over the top facial expressions.
There is something strange going on at the farm Mark is staying at. He does get distracted by a couple of beautiful girls that do not show any emotions. Mark's dreams have become nightmares here. In this town, a lot of illegal drugs are done.
The movie just keeps going on with nothing happening other than Mark using drugs or getting drunk.
Then six women take a group of men out into the woods including Mark. This is where the horror begins. Lots of blood and gore comes out. The blonde witch is so cute even when she is killing.
The witches are portrayed as super strong and fast. They have enhanced senses too. The mythology behind the witches is not gotten into at all.
The High Priestess does have an on-camera presence that draws you to her. She emanates evil.
The whole film is a low budget horror movie. The scenes with the beautiful witches are fun to watch and they are done showing their physical abilities in an over the top manner.
As Mark tries to escape there is lots of violence. Things are moving fast.
The first two-thirds of this movie is so boring. You can skip ahead to the last third where the action stats and for a low budget movie it is done good enough to hold your interest and having gorgeous women as the witches helps. Better acting from all the actors involved would be great to see as it was subpar.
The best scenes are when the killing starts. These are done in a fun entertaining manner which will have you sitting up paying attention.
About Author