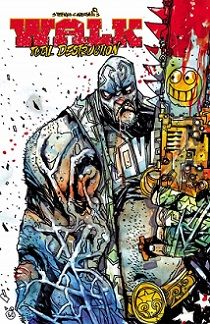 Title: Walk Total Destruction (One Shot)
Publisher: Second Sight Publishing
Written and Illustrated by: Stefano Cardoselli
Co-written by: Stephen Nelson
Letterer and Logo Design:  Bram Meeham
Rating: 4 out of 5 stars
Website: mobile.twitter.com/Secondsightpub
Comments: The art style is tough hard and in your face. The story has competition in The Tower of Justice winner lives. First off we see Garrotte with a chainsaw. The art does get gory as Garrotte is a brutal powerhouse. He needs to get to the 17th floor and is on the 3rd with the clowns. Garrotte loves killing and fighting and is a challenge.
On the 14th floor, Garrotte is still going on this live televised show. People do love violence. Here Heavy Donut is one big man with a lot of firepower. He is after Garrotte and has him cornered. The muscles on Garrotte are huge. The more you see of Garrotte the more you both hate and love him. You want to see him win.
The 16th floor is so near yet it gets worse as you go higher. Razor Head is waiting. These two insane killers are going head to head.
On the 17th floor and yes the final one Garrotte has made it and here faces Big Daddy Death. This is a slobber knocker. Garrotte rises to the occassion.
The ending after Garrotte's dream is exactly as expected. A bit of a surprise would have been nice. Those in control of the game do control the game.
This comic is very violent and the art shows it. A few big guys fight for what they want and die too. Nothing fancy about the brawling here. This is a vicious fight from start to finish.
About Author