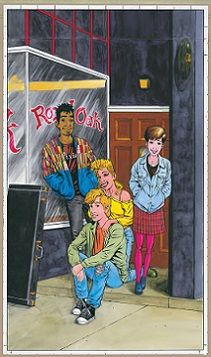 Title: Wahoo Morris # 2
Publisher: C.A.T. Comics & Books
Story & Art: Craig A. Taillefer
Price: free
Rating: 4 out of 5 stars
Website: www.craigtaillefer.com , www.wahoomorris.com
Comments: Sebastian besides being in a band is also a comic book Inker. It is funny when he says yes I trace drawings. Sebastion does lead one interesting life, well boring might be more apt. His day job as a store clerk is presented in a fun way that will make you smile and maybe laugh.
Alicia now she is a band mate of Sebastian's and she is into magic. She is drawn skinny and cute. Is the magic she is into real?
Wahoo Morris is an up and coming band: Bash, Arnie, Chas and Alicia make up the band. This issue gives you a closer look at who the band members actually are. The interview at a radio station they do goes great. The art illustrates them as ordinary people.
The story moves along great and so much and than there is Alicia. What is she into? A mystery has sprung up and it is quietly coming into Wahoo Morris's life.
About Author