Charlie Samuels' VIRGIN BLACKTOP: a New York skate odyssey documentary film premiering in NTC at Margaret Mead FF in NYC Oct 21 and then playing other festivals through October and November. The film will not be released in theaters until 2019.
A film about life, death, friendship and something even more important – skateboarding. The film is an uplifting and sometimes heartbreaking coming-of-age story about a super funky crew of suburban New York City kids. When they met in 1977, they had nothing in common except a passion for skateboarding. Despite their vastly different ages, races, and economic backgrounds and with their parent's hands-off approach, they formed a competitive, traveling team of spirited outsiders called the "Wizards". Now, nearly 40 years later, they remain friends but their lives have followed very different paths, from boardrooms to jail cells.
VIRGIN BLACKTOP premiered at the San Luis Obispo International Film Festival in California in March 2018 and won "Best Documentary Skateboard" award at the Paris Surf and Skateboard Film Festival, finalist for Grand Jury Award at Milan SSFF, Best Skateboard film at PSFF in Portugal, standing ovation at DocUtah.
It took Samuels, who makes his living as a professional photographer, 24 years of shooting and hunting down films to put his movie together. Along the way, he married (skateboarding on his hands down the aisle) and became the father of two but he never lost the dream of telling the Wizards' story. He searched dusty attics for half-forgotten Super8 films, and traveled the country, interviewing former team members. The Wizards are all in their fifties now and, remarkably, all of them still skate. They recently had a reunion and watched the film for the first time. They loved it and Samuels is betting audiences will too.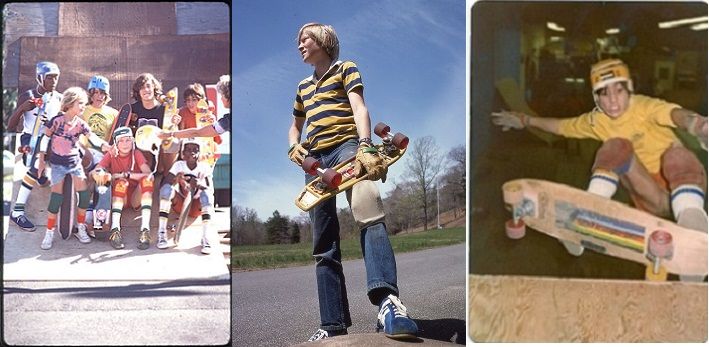 FACTS ABOUT VIRGIN BLACKTOP
ORIGINS
– Director fell first time on a skateboard in 1975, got hooked then practiced alone in a cemetery in 1976 (film named after experience in a cemetery).
– VIRGIN BLACKTOP film idea was conceived when Wizards built a skateboard ramp in NYC apt (first ever?) in 1994
– Director fell in love with skateboard lying his head on the blacktop staring at the urethane wheels and loose ball bearings.
– Wizards went on many road trips without parents despite driver (Director) looking no more than 12 (was pulled over by police numerous times and gas stations refused to serve him)
– There are many stories that didn't make it into the film: Disorganized NESA slalom contest, breaking bottle to protect ourselves from parking spot stealer. Making sandwiches in supermarkets to eat.
PRODUCTION
– While shooting a scene in Las Vegas we were stopped by the cops for skateboarding, like the old days.
– While shooting a scene in Tuskegee AL, a shootout broke out next to us and we had to 'hit the deck'.
– Two Wizards (director and star Jamaal) bombed a hill at about 40 mph in 2013 for a scene that didn't make the cut.
– The film was edited in New York and in Paris, France by an ex-pro skateboard champion David Couliau.
– V.B. graphics are groundbreaking. (skateboarders value graphics highly)
– One Wizard skateboard team member died during production.
– Wizards were photographed by fashion photographer Timothy Greenfield-Sander for German Vogue magazine.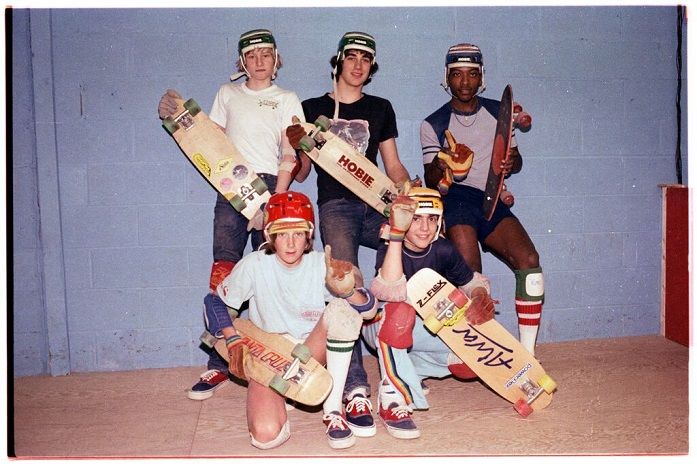 SK8 COMPETITIONS
– Wizard Jamaal Bey almost died when he was run over by a car at age 5; was photographed by famed Skateboarder magazine photographer Glen E. Friedman; Took 3rd Place in the high jump in East Coast Nationals Asbury Park NJ.
– Youngest Wizard Michael Offen had a tested genius IQ; placed 1st in East Coast Nationals Asbury Park NJ 1977
– Wizard Christopher Kinzel taught sailing at 14, attended elite school Chote Rosemary and built a 48-foot steel schooner at age 20 and placed 3rd in slalom at NESA northeast regionals.
– One Wizard became Champion amateur freestyle skateboarder in the world in 1988, then turned Pro.
DIRECTOR Charlie Samuels:
– skateboarded on his hands to the altar at wedding and Wizards were the ushers 2002.
– skated the "Broadway Bomb: you could die" illegal skate race in New York City in 2015.
– is known in his hometown as "the 50-year-old skateboarder"
– launched his photo career documenting skating for Thrasher magazine, Transworld Skateboarding and Action/Sports for mainstream magazines. In 2002 shot the first known "Page 1, top, above the fold" skateboarder for the New York Times newspaper in 2002.
– Director lost 10% of his body weight in the last year of production.
Directed by: 
Charlie Samuels
Writing Credits:
Charlie Samuels
Cast: 
Jonathan Dale Bell … Himself
Jamaal N.H. Bey  … Himself
Umberto Brownlee … Himself
Joe Humeres … Himself
Run Time: 1 hr, 22 min
Rating: 3 out of 5 stars
Comments: This film is about skateboarding. It is a documentary with interviews. Jamaal is the first one interviewed and he does know about skateboarding. This film does show skateboarding from a fan's point of view and it is done realistically.
The Skateboarding kids are interview when they are all grown up. They look back when they were kids and there are lots of pictures of them as kids. The kids had fun.
If you are into skateboarding you will find this of interest if not you will find it dragging on and boring.
The camera work from forty years ago definitely does look old. It is a nice look into the past.
The animation in it is done really well.
We follow the kids as they grow older through photos. So as they grow we get a sense of what each one is like. They do have reunions and getting the team of the Wizards back together to hang out lets them all have fun. It is fun to watch them having fun. These are just ordinary guys who love skateboarding.
The scenes of the skateboarding park are amazing. The music is wonderful to listen to.
The main problem with this film is it does drag on. Unless you know the people and or are a die-hard skateboarder you will grow distracted since this will not hold your interest.
The characters are delightful and fun. They are common people who you can identify with.
So grab your skateboard and roll.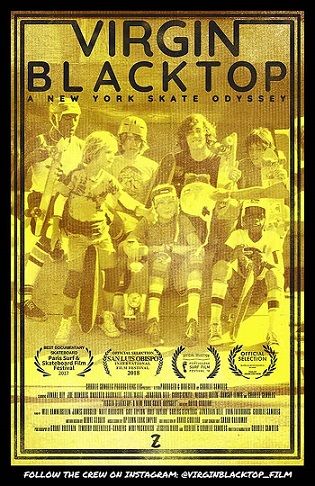 About Author