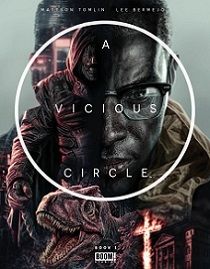 Title: Vicious Circle # 1
Publisher: BOOM! Studios
Written by: Mattson Tomlin
Illustrated by: Lee Bermejo
Lettered by: Becca Carey
Cover by: Lee Bermejo
Variant Covers by: Lee Bermejo, Alex Garner, Jae Lee, Inhyuk Lee, Tula Lotay
Price: $ 3.99 US
Rating: 5 out of 5 stars
Website: www.boom-studios.com
Comments: The art is of a realistic quality that will have you wondering are these photos when you see the people. The shading and tones are so well used to accentuate the art. Here we see a dad who has a great relationship with his son. The wife is a sleeping beauty. Then something is off as the cellar is off-limits.
Who is the mysterious man in the cellar?
This comic brings across the tensions of integration happening and those who oppose it.
Shawn Thacker is a man with secrets.
The detail in the art will just blow you away. The story delivers so much emotion. Shawn and his family seeing them together and the things that happen will bring a tear to your eye.
As the story shifts to the future the art style changes drastically.
Shawn in this future is tempted. He is hunting a man, Ferris. One fights to save the world and one to destroy it.
As the two men time travel the art style changes. This artist Lee Bermejo is so talented. He does keep a dark ominous feel throughout the comic.
The art and story here will grab you and you will not want to get away. This comic delivers excitement, emotion, and the art you have to see it to believe it.
About Author