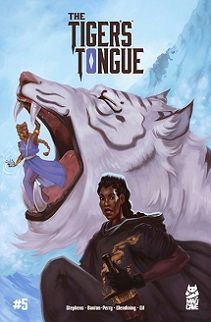 Title: The Tiger's Tongue # 5
Publisher: Mad Cave Studios
Writer: Olivia Stephens
Artist: Diansakhu Banton-Perry
Inker & Colorist: Bex Glendining
Covers: Odera Igbokwe
Letterer: Jamette Gil
Price: $ 3.99 US
Rating: 4 out of 5 stars
Website: www.madcavestudios.com
Comments: The new Queen is heartless in her actions and she is also misguided. She thinks what she is doing is for the best when it is only hurting those around her and her new Kingdom.
Dani and Lindi are two sisters who loved each other very much. Now we see their natures come to light and we see that they may not be who you think they are. Wanting to rule and actually ruling are very different. The personalities of both sisters come out and things just steamroll into the unexpected.
An ancient prophecy is not clear except for one thing the twins will bring in a new age, one that will make the world of the River and Claw people better.
The art on the tiger gives him such an amazing look as if he is more than just a tiger. Like he is a spirit animal.
This story takes a sad turn that will make your heart feel saddened.
The ending here is not what you would expect but it is what you will want.
About Author