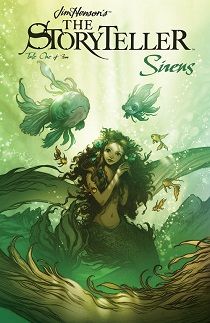 Title: The Storyteller: Sirens # 1
Publisher: Archaia/BOOM! Studios
Story by: Bartosz Sztybor
Art by: Jakub Rebelka
Letters by: Jim Campbell
Cover by: Cory Godbey
Variant Cover: Jakub Rebelka
Spot Illustration by: Sonny Liew
Price: $ 3.99 US
Rating: 4 out of 5 stars
Website: www.boom-studios.com
Comments: "The Mermaid and the Fisherman"
The city of Gdansk is where a fisherman lives and he has a dream to own his own ship. He also has a loving wife and a beautiful kind-hearted daughter.
The art style is perfect for this old world story. It is a fairy tale yet told not quite like one. This fisherman does catch a mermaid and being the self-caring man he is he just uses her for his own enjoyment and does not care about her or anyone else.
This is such a sad tale. The fisherman throws away the great life he had. Just because he wanted more, he was greedy. Then he searches to try to get a life of happiness. In the end, he realizes he was happy and he throws it all away.
The mermaid is illustrated as a sad creature once caught you just feel sad for her. The fisherman for capturing her you think you might feel anger for but you just feel pity for him.
One does not have to go far or look hard to find what is right before you.
About Author