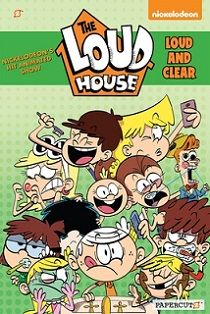 Title: The Loud House # 16 "Loud and Clear"
Publisher: Papercutz
Writers: Mariah Wilson, Kara Fein, Amanda Fein, Erik Steinman, Mariah Wilson, Derek Fridolfs, Jair Holguin, Kara and Amanda Fein, Kiernan Sjursen-Lien, Paloma Uribe
Artists: Jennifer Hernandez, D.K. Terrell, Amanda Lioi, Amanda Tran, Zazo Aguiar, Lex Hobson, Erin Hyde, Kiernan Sjursen-Lien,
Colorists: Jennifer Hernandez, D.K. Terrell, Amanda Lioi, Zazo Aguiar, Lex Hobson, Erin Hyde, Erin Rodriguez, Amanda Tran
Letterer: Wilson Ramos Jr.
Cover Artist: Max Alley with Colors by Peter Bertucci
Price: $ 7.99 US, $ 10.50 Can
Rating: 4 out of 5 stars
Website: www.papercutz.com
Comments: Leni is a fashion diva and when she sees those in need of fashion help she jumps to the rescue. She is great at fashion and not so great at picking up take-out food. The art shines here in a very cartoonish style.
Rusty a family friend has fun with the animals. He can also dance and throw a party.
Lola gets a new doll Miss Everything and she is a cute doll. Having a doll that is cuter than yourself can and does lead to trouble. Lola though easily fixes the problem.
Lisa does have fun in her own inventive way. She is a mad scientist at heart and here that comes to light.
Two cooks work hard on a pie while dealing with a goat. It does have its funny moments whenever the goat gets involved.
A missing pig leads to not much of anything. This story is just here. The pig is cutely drawn.
Funny video tapes can be very funny and have other uses as well.
Pranking can be fun just not so much for the one being pranked. Luan is a jokester and plays a  classic prank on Lincoln.
Buying roller skates does turn into an adventurous competition. The girls are shown having fun as they compete. The skates do look amazing.
Storytelling is art even when it is just one word at a time.
Lori and Leni are fashion designers well at least they are hoping to be. They just might be with the enthusiasm they show.
A battle of the bands turns into a nice team-up, Moongoats and Mango do go well together.
Geo does enjoy being in his protective ball. So getting out of it is an adventure he would rather not have had. It was a frightening experience for him.
Playing pretend is fun and with a good imagination so much better.
Leni plays a mean game of hiding and seek. Poor Lincoln never stood a chance.
The Proud family gets along so well. They are perfect together.
About Author